Looking for self catering accommodation in Wick?

Check out this great apartment – with free parking, located right on the NC500 and within easy walking distance of town.
Author Bio – Melanie Newdick, Hotel Expert
Stayed in over 700 hotels during +36 travel career
Spent +10 years actually in hotels during my lifetime
Stayed in hotels with holiday groups (+9,500 people) + as leisure & solo traveller
Check out my top money saving resources
Looking for a Self Catering Accommodation in Wick?
Why not consider this great 2 double bedroomed apartment with free parking, fully equipped kitchen, all linen and towels, great lounge with Neflix and Freeview on the TV within a 10 minute walk of Wick High Street? It's also right on the NC500 route!
Sound interesting? It's great value and a great place to stay – they even provide all the fabric conditioner and washing powder so it's a good chance to get your washing done.
Check out my review of this really nice accommodation and if you are interested you can hit the search to find the best prices on the internet too.
Accommodation in Wick
2. Pre-Arrival Information
The day before arriving at self catering accommodation in Wick a text message came through with the details of the property address and the keycode for the door to access the key.
Accommodation in Wick
3. Arriving at Number 4 Bignold
It is easy to find No.4 Bignold – just follow the main road through Wick as if heading to John O Groats. After passing a very large church on the left, and a small seating area on the right the road bears right. There is an old filling station on the left, currently used for selling coal and just as the road starts to bear left Bignold Court is on the left hand side.
There is a large shared parking area with parking right outside apartment number 4.
There is a shared front door which is unlocked and inside the shared entry hall, there is a key safe next to the door.
Check in times were from 3 pm and check out by 11 am.
Accommodation in Wick
4. Staying at Number 4 Bignold
This Wick self catering holiday accommodation is a two-level apartment with the following facilities and amenities;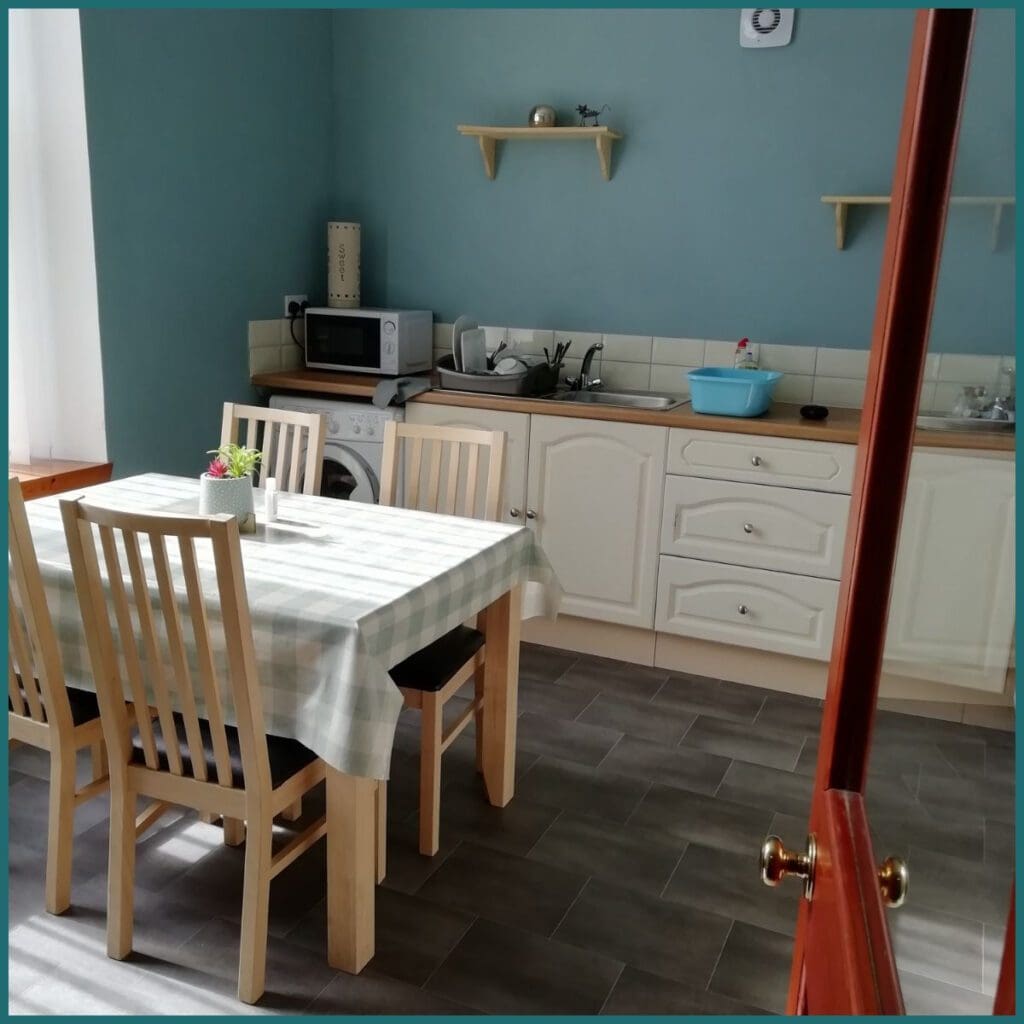 Accommodation in Wick
5. Kitchen – Ground Floor
Pleasant light room overlooking the front car park
Dining table for 4 people
Washing machine
Microwave
Cooker
Ceramic hob
Fridge
Freezer
Kettle
Fully equipped kitchen with all the cutlery, cooking equipment etc required
A particularly nice touch was the tea, coffee and biscuits
There was also tin foil, clingfilm etc, cleaning products
Tea towel, washing up sponge and washing up liquid provided
Another nice touch was washing powder and fabric softener being supplied for the washing machine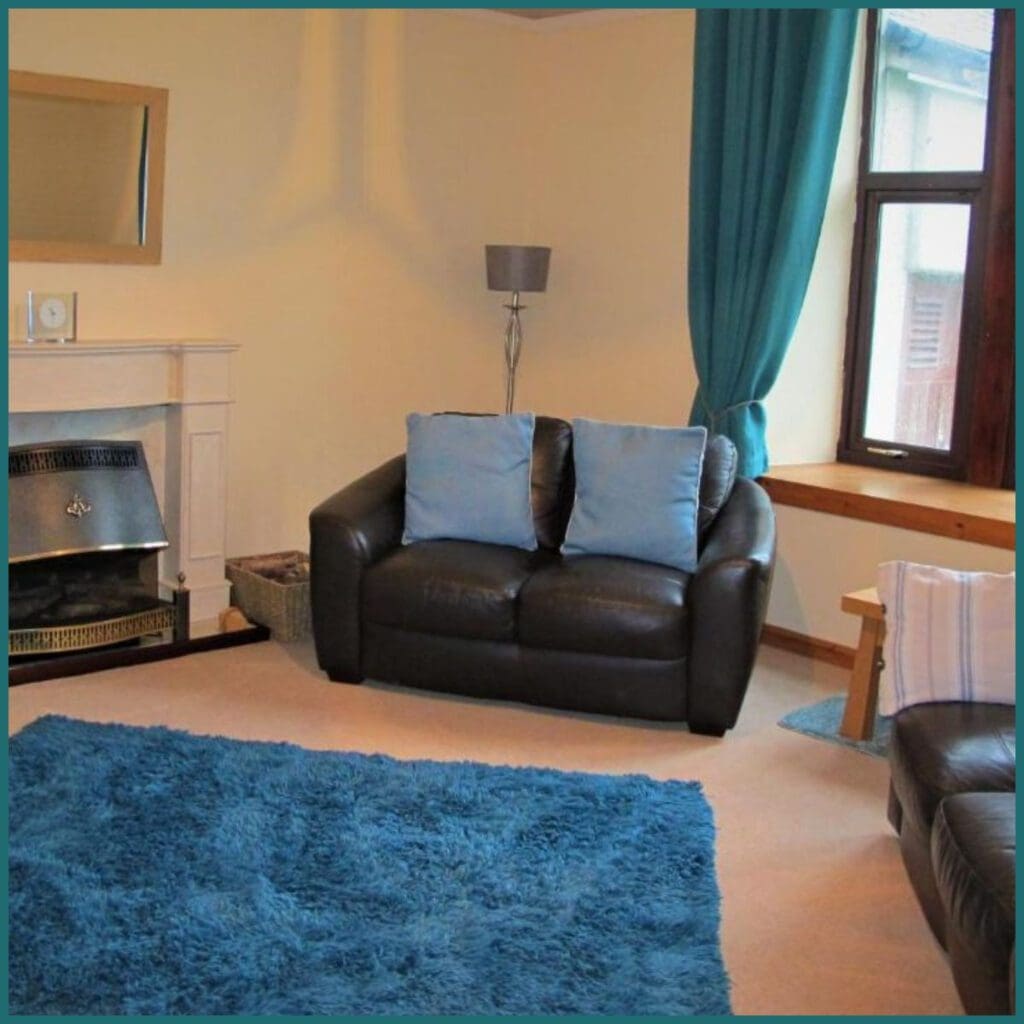 Accommodation in Wick
6. Living Room – Ground Floor
This was a spacious room with evening light coming in through the large windows, which overlooked the rear car park
3 seater leather sofa and cushions
2 seater leather sofa and cushions
Coffee tables and coasters
Large mat in front of the fireplace
Electric fire with flame effect and fan heater
TV with Netflix and Freeview
Small desk and chair
Accommodation in Wick
7. Upstairs Landing
Small bookcase with a selection of books
Accommodation in Wick
8. Upstairs Bathroom
Bath with shower over
Toiletries including shampoo and soap
Washbasin and toilet
Good supply of toilet rolls
Accommodation in Wick
9. Upstairs Front Facing Double Bedroom
One window to the front overlooking the car park and the road
One window to the side overlooking the slate roof
Double bed with duvet and 4 pillows
Full set of towels
Ample cupboard and storage space
Chest of drawers
Bedside tables with lights
Accommodation in Wick
10. Upstairs Rear Double Bedroom
As front facing bedroom, again with towels
Rear window looking over the rear car park
Accommodation in Wick
11. Things To Note
The ceilings at this self catering holiday apartment in Wick are quite high which means the stairs going up are quite steep. There isn't a handrail as the stairs curve around so this means extra care is needed. This might make the property unsuitable for those with young/smaller children. See the photo of the stairs below or check out the video review to see what going up the stairs is like.
Wick is very far North in the UK. That means evenings are lighter later. The curtains in the property are not blackout curtains so for those who like to sleep in a dark room an eye mask might be a good idea.
The bedroom at the front does experience some road noise. It's not a great deal but it really depends on what you are used to. I always travel with ear plugs for sleeping so it wasn't a problem.
Accommodation in Wick
12. Video Review
Want to check out the inside? Check out my video tour which shows you all the rooms.
Accommodation in Wick
13. Wick Hotel – Walking into Town Centre
It is an easy walk into Wick town centre from the property and it takes around 10 minutes to walk. In Wick town centre you will find a Wetherspoons pub, a small selection of shops, a convenience store and some takeaways.
Accommodation Wick
14. What and Where We Ate
Lucky888 Chinese Takeaway – 36 High Street, Wick
This Chinese takeaway is a 10 minute stroll from No.4 Bignold. The sweet and sour vegetables with boiled rice, plus special fried rice, pineapple fritters and prawn crackers were nice. The service was friendly and we had our meal with pineapple fritters and prawn crackers. The total cost was £21.00. The menu is extensive with a good choice of dishes including Thai dishes.
Telephone 01955 606 888
Breakfast at Tesco Cafe
We went to the nearby Tesco supermarket for breakfast as they do a Vegan breakfast and plant milk coffees, as well as a Dragonfruit cooler. It was good value and we picked up some snacks for the rest of our day exploring the area and used the toilets before we set off.
The cafe is just on the right as you enter the Tesco supermarket.
The supermarket is found by taking a left turn out of Bignold Court and it is around 0.5 miles further North on the right hand side. There is a filling station there as well.
Accommodation in Wick
17. Summary of Stay
A 1 night stay was £89 which was good value given it was the first weekend in June
The apartment was very nice to stay in and we had a relaxing evening and a relaxed start to the day.
We enjoyed the extra space, the chance to dine and the chance to lay on the sofa watching TV too!
Accommodation in Wick
18. Wick Hotels
If you are keen to stay in a hotel in Wick here are a couple that I have also stayed in and a bit of information to help you plan your stay.
I have never been a fan of guest houses, but the Bank Guest House is an exception to my rule. Having had to stay in Wick a number of times for work purposes the Bank Guest House became a favourite place to stay.
It is located right on the main street of Wick and is on several floors above the old bank building. There is free parking nearby and the rooms are well equipped. There are small double rooms available, which although small are very comfortable and cosy.
I also found the hosts friendly and the breakfasts were great too.
The Norseman Hotel is quite a large hotel, family run, with its own restaurant and bar.
It is within 0.5 miles of Wick train station so particularly handy for those travelling by train.
Rooms are simply styled and some Scottish touches run throughout the hotel. There is plenty of free parking on site.
This Norseman Hotel is a great place if you want to stay where you can eat, drink and sleep all in the one place!
21. Accommodation in Wick – Quickly Find Great Deals
Further Reading
If you have found this Wick Self catering article helpful then you might also like;
My review of Duncansby Stacks which are 18 miles away from Wick, includes local facilities plus photos and videos of these wonderful cliffs.
You might also be interested in my Scottish Higlands page for my reviews and trip reports.
Other Articles You Might Like