Are you planning on visiting Birmingham?
Why not consider a Birmingham city break? It's a surprising city with some interesting attractions – not least the oldest cinema in the UK.
---
Author Bio – Melanie Newdick, Professional Traveller
+36 years travelling for work. Visited +40 countries (many multiple times)
Stayed in over 700 hotels. Taken +9,500 on coach holidays
Check all out my best money saving resources
---
Birmingham City Break
Is Birmingham good for a city break?
Birmingham is great for a city break. It's home to the UK's oldest independent cinema, the Bull Ring market, great museums and a fab Chinese quarter. It's also got lots of canals.
Check out this review of a weekend trip to Birmingham with details of things to do and places to visit.
Birmingham City Break
1. Getting to Birmingham
I flew from Inverness to Birmingham. There used to be a regular service operated by Flybe. There is a service between Inverness and Birmingham which is now operated by Loganair.
Search below to find flights to Birmingham
Birmingham City Break
2. Travelling from Birmingham Airport
Birmingham Airport is a nice sized airport. I took the train from Birmingham International to Birmingham New Street Station and then walked to the hotel I was staying at. It was an easy walk and took about 15 minutes once I had found my way out of New Street!
I stayed at the Ibis Birmingham city centre. It was a reasonably priced city centre hotel (£55 for the night). Check out my review of the Ibis Birmingham city centre for more information.
If you want to quickly check prices for the Ibis Birmingham city centre then quickly check below.
Quickly find the best prices for hotels across Birmingham using this map search;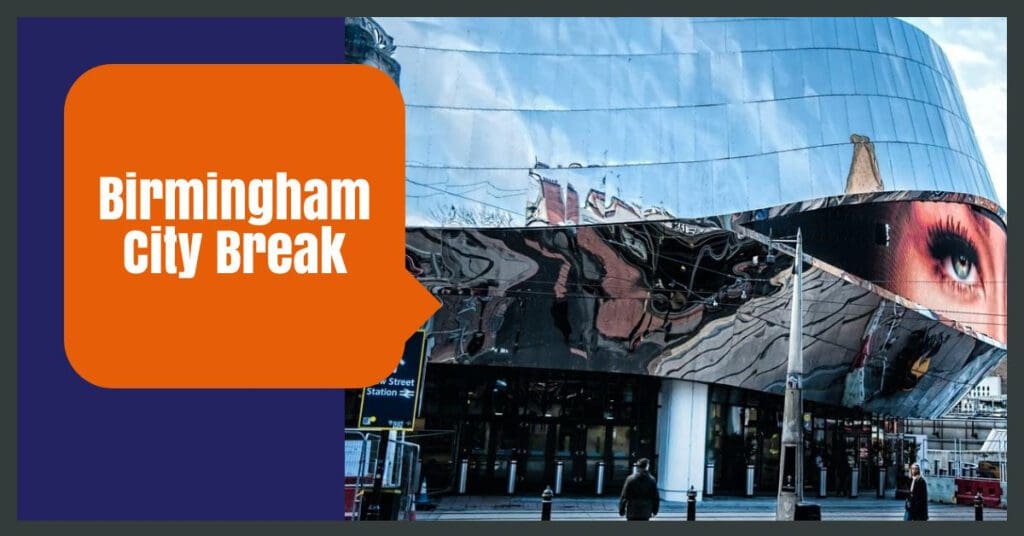 Birmingham City Break
Activities and Eating
While I was in Birmingham I ate at Chung Ying Chinese restaurant which is just across the road.
I chose this restaurant because it had an extensive vegetarian menu.
I ate bean curd dim sum for start, which were like trying to eat molten lava. They were very nice once they had cooled down!
The main course of fried rice and vegetables in a bird's nest was very nice but I couldn't eat the birds nest (made from noodles) because I only had a spoon and chopsticks. I wasn't able to get the attention of anyone to request any more cutlery. The restaurant was very busy and there were lots of groups and couples in. I was something of an oddity as the only solo diner I think.
With two soft drinks the meal cost £21.00
Birmingham City Break
I also visited the Electric Cinema while I was in Birmingham.
This is a quirky independent cinema that is beside New Street Station. The lobby area is tiny and because it was cold and there were two films starting close together it was jammed in the lobby area while waiting to get into the cinema. I loved the little bar, although I couldn't reach it to get a drink or a homemade cake/cookie.
The seating was comfy and there were also sofas as well.
I saw the film Parasite and it was a great experience with members of the audience laughing etc throughout – it felt almost like a communal cinema experience. The film was amazing, something quite different, and actually, a South Korean film that went on to win several awards. It was nice to hear the reaction of others in the audience to various parts of the film, which is well worth a watch if you haven't seen it.
This quirky independent cinema experience was the highlight of my Birmingham break.
It was a short walk back to the hotel, which was fortunate because by the time I came out of the cinema, there were lots of groups milling about the streets of Birmingham city centre.
Birmingham City Break
I had actually booked a ticket to take a tour of the Coffin Museum in Birmingham. This sounded really quite interesting but my plans changed at the last minute and I wasn't able to go. It's definitely on the list for next time.
The museum is in the Jewellery Quarter and it tells the history of the Newman Brothers business which was in its heyday in the 1960's.
Here is a little clip from when the museum was on the Antiques Roadshow for a flavour of what it is like and about.
Birmingham City Break
These terraced houses are now a National Trust museum providing insight into the daily life of working class people.
The reviews are really great, with much praise for the guides taking the tours.
There are some steep stairs to deal with.
Otherwise, they sound like a really different type of historic tour.
8. Looking for Hotels for your Birmingham Break?

Find great deals quickly using this map search
Top deals in Birmingham
Further Reading
If you have found this Birmingham City Break article useful you and you are planning to travel to Birmingham you might also like;
My review of the Ibis Birmingham New Street
My review of Ibis Birmingham Airport.
My review of the Village Hotel, Solihull
For more ideas check out my Travel Inspiration page
Other Articles