Thinking of visiting Brodie Castle?
With lovely grounds to walk in, a quirky castle, cute cafe and a fabulous play area what's not to like?
Check out this guide for all you need to know
Brodie Castle – Everything You Need to Know
1. Brodie Castle Address and Telephone Number
Brodie Castle address is;
Brodie, Forres IV36 2TE
Brodie Castle telephone number is;
01309 641700
2. Brodie Castle Location
Brodie Castle is located just off the A96.
The castle is accessed by following the signs off the A96 for Brodie Castle which is not the same place as Brodie Countryfare. Brodie Countryfare is an upmarket shop and delicatessen and cafe. It is worth a visit.
If you follow the signs for the castle you turn off the A96 and travel around half mile down to a small crossroads. Cross straight over and you will see the entry signs to Brodie Castle.
On the driveway, you will pass a standing stone on the left and then come into the parking area.
The gardens and grounds are open every day.
The Castle and Cafe is open as follows;
12 Feb to 4 March Saturdays and Sundays only 11.00-16.00
5 March to 30 Oct Wedesdays to Sunday 10.00-16.00
The Playful Garden is open;
5 Mach to 30 Oct, Wednesday to Sunday 10.00-16.00
4. Brodie Castle Parking
Parking is 3 pounds per car. There are parking meters that take coins and contactless payment. When we visited the contactless payment option wasn't working.
There are some parking areas under the trees which are good for keeping cars cooler.
There is a toilet block in the car park area. There are Ladies and Gents. These are referred to as Laddies for the Gents and Lassies for the Ladies.
The toilets are open and entry is restricted to one household at a time. There is a hand sanitiser just outside the toilet block.
There is a short path that leads towards the castle.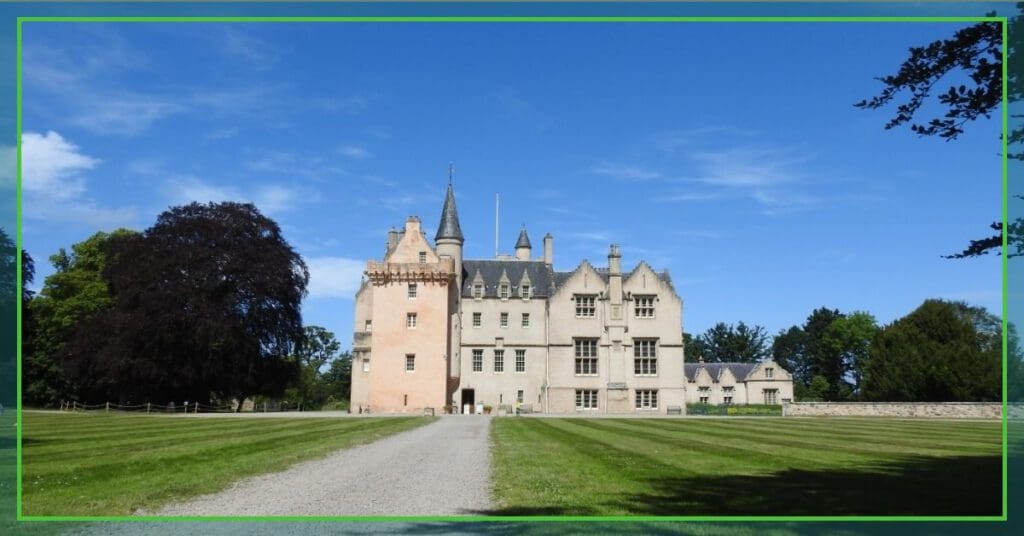 During our visit, the castle was closed to visitors.
If you want to visit Brodie Castle you can join a guided tour. You pay and meet your guide at the entrance of the castle. The tour starts on the ground floor and works its way up through the house. Given the age of the house, there are a number of steps and stairs to deal with.
The house has an interesting story and there is some lovely decor and objects to admire. One of my favourite rooms at Brodie Castle is the nursery which has super cute little playrooms in the tiny turrets in the corners of the room.
There is a gift shop at Brodie that has a nice range of items.
Once you have passed through the gift shop you come to the cafe which has seating outside as well. The ice cream is very nice!
There are additional toilets close to the cafe and sitting outside on the terrace is very pleasant.
Just across from the cafe terrace is an adventure playground area.
To the side of the cafe and the terrace is a nice lawned area which is ideal for picnics or for children to have a run around.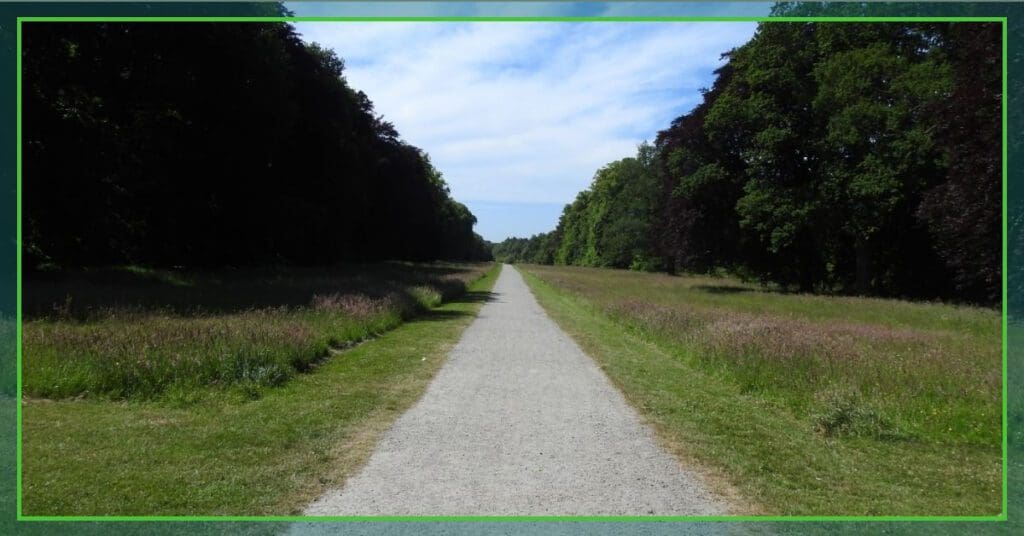 Leading from Brodie Castle is an avenue that leads down to a lake. It is great to see that the grass has been left from being cut along the side of this avenue which has allowed for flowers to grow. The short walk from the castle leads down the avenue and after crossing a road you cross through a gate to the edge of the lake. There is a pleasant bench which is a good spot to see the ducks, coots, and swans.
There is also a bird-watching hide along the edge of the lake too. There are some pleasant walks through the woods and around the edge of the lake.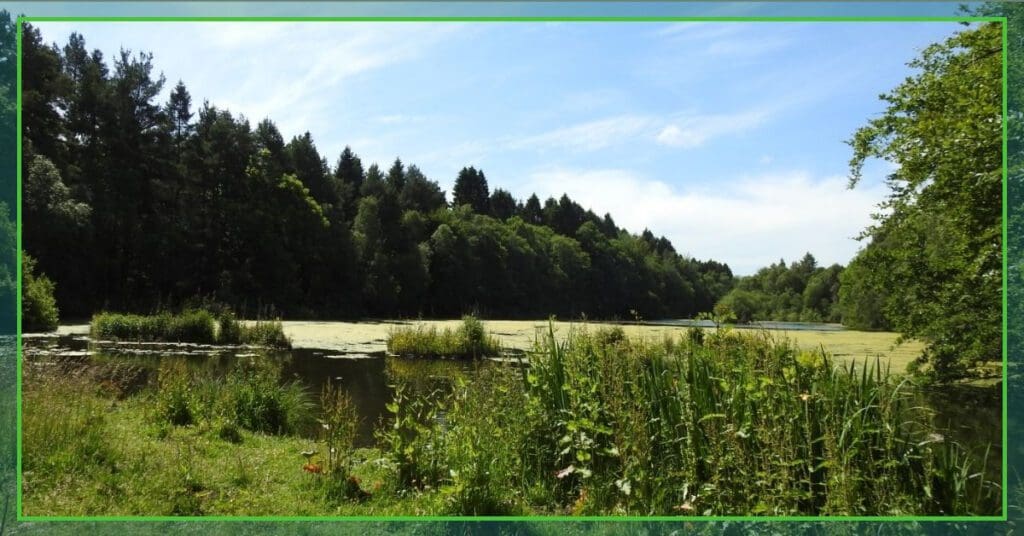 8. The Playful Garden
If you are visiting Brodie Castle don't miss visiting the Playful Garden. When working as a Tour Manager I have taken my groups into the Playful Garden and we had great fun trying out some of the play equipment. It is one of the best play areas I have seen. There are toilets, a shop and a small cafe there as well.
Entry is £11.00 per adult, £6.50 per child
The Playful Garden costs £5.00 per person regardless of age to enter
Parking is £3.00 per car
If you want to visit Brodie Castle multiple times or you plan on visiting other National Trust for Scotland properties then why not consider a membership?
An adult membership that gives unlimited visits to National Trust for Scotland properties and free parking is just £63.00 per person per year.
For those over 60 years of age, membership is £55.80 per person per year.
For those 16-24 membership is £36.00 per person per year.
Brodie Castle FAQs
Who owns Brodie Castle in Scotland?
The National Trust for Scotland now owns the property, looks after, runs, and maintains it.
Can you stay at Brodie Castle?
Yes, you can. You can stay in the Lairds Wing – an apartment in the castle itself. You can also stay in a number of cottages on the grounds of Brodie Castle. Check out all the details below.
Can you take dogs to Brodie Castle?
Yes, you can. You can't take them in the house of course but the grounds are lovely for walks. If you are visiting the grounds you just need to pay for car parking.
How long is tour of Brodie Castle?
The tour takes around 1 hour depending on the group size and the number of questions that people ask.
Brodie Castle Accommodation
Check out the accommodation available in Brodie Castle and in the grounds of Brodie Castle.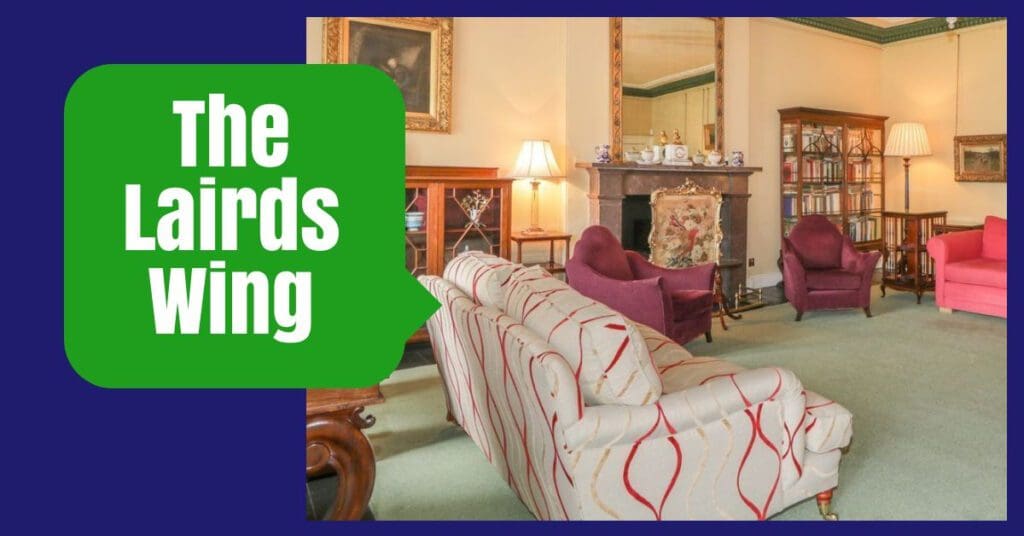 This 7-bedroom apartment is spread over two floors in Brodie Castle. Two well-behaved dogs are welcome and catering can be arranged too. There is also WIFI!
Prices start from £1976 per week
Check availability for your travel dates at The Lairds Wing
South Lodge is a two-bedroomed property, all set on the ground floor, in the grounds of Brodie Castle. There is WIFI and a wood-burning stove in the property.
Prices are from £435 per week
Check availability for your travel dates at South Lodge
Cormack Lodge is a one-bedroomed cottage with an open fire. It is pet friendly and all the accommodation is located on the ground floor.
Prices start from £388 per week
Check availability for your travel dates for Cormack Lodge
Gardeners Cottage is a 3 bedroomed pet-friendly cottage with secure gardens to the front and rear of the cottage.
It has a wood burning stove, oil central heating and that all important WIFI. There is also parking for 3 cars.
Prices start from £360 per week
Check availability for your travel dates at Gardeners Cottage
Hotels in the Forres Area
Brodie Castle – Conclusion
Brodie Castle makes for a lovely day out whatever your age
The guided tour of the house is a great way to ask questions about things you are interested in
The gardens are lovely – they are home to the national Daffodil collection
The Playful Garden is amazing – whatever age of child you are!
Next…
Check out my Scottish Highlands page for lots more ideas of things to do and places to go
Further Reading
If you have found my review of Brodie Castle useful you might also like;
Inverewe Gardens – everything you need to know about these amazing gardens on the West Coast of Scotland
Holiday Cottages Inverness – for great self-catering stays in Inverness city
Highland Cottages with hot tubs – for great stays with the added bonus of a hot tub too!
For more ideas for your next trip check out my Scottish Highlands page
Other Articles