Have you seen the phrase 'orientation tour' and wondered what this coach trip terminology actually means?
Do you know what the difference is between a orientation tour and a guided tour?
There are some key differences you need to know about.
Read on to learn all you need to know about this coach trip terminology and what it might mean for your holiday experience, if you see this on your itinerary.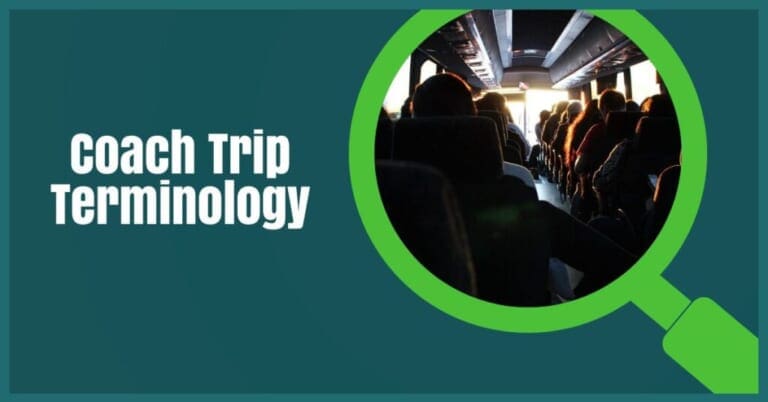 1. Coach Trip Terminology – What Does an Orientation Actually Tour Mean?
Orientation Tour Meaning?
In relation to coach holidays, an orientation tour is a tour led by someone who is not a qualified local guide. Its purpose is to give you general practical information to help you find your way around. The tour should not include detailed historical or cultural information as this should only be conveyed by a qualified local guide.
On a coach holiday, an orientation tour is likely to be a tour led by the Tour Manager who is with the group and not by a local guide. As a Tour Manager taking groups, I am not legally allowed to guide tours of places that I am visiting with the group unless I am a qualified guide for that area. For example, I cannot lead a tour of London because I am not a Blue Badge guide. Becoming a qualified guide generally involves lots of hard work, study, exams, and of course expenses.
Once these trained guides are qualified the rates that they charge are generally set by the guide licensing agency and they are able to start earning back some of the money they spent training.
This applies to most cities and localities that coach trips visit on holiday. Each city and locality will likely have its own trained guides who are experts in that particular area, having spent a long time learning all the history and knowledge that any visitor might want to know.
This often applies to particular attractions and museums. A Tour Manager going to the Hermitage Museum in St Petersburg for example is not allowed to take the group around the museum, the group has to go with a museum guide who are specialist in the museum and its treasures.
As such when you see that a tour is an orientation tour it means it will not be run by a local guide because this is the only type of tour a Tour Manager is allowed to do when visiting cities etc. These tours are supposed to be just about orientation, giving details of where things are rather than what things are.
They are supposed to be about things like how to get to attractions, how to get around, where shops such as pharmacies are, how to use the local transport and to help find things that you might want to visit, do or places to eat at.
They are not supposed to be full of historical information, cultural information, and detailed facts about the place you are visiting because that would make them a tour.
Of course, this is a bit of a grey area.
I have certainly done orientation tours and included some aspects of history and culture because learning that sort of information is what I love doing before a tour. However, I haven't given a blow-by-blow historical account of the city, town, or area and I haven't spoken in length about the history of any particular building or monument.
Likewise, I have also done orientation tours which have been focussed on where things are. Showing the nearest cashpoint machines, pharmacies, supermarket, bus stop, train station and all that more practical type of information.
As you can see understanding coach trip terminology in relation to tours is really important as they can be very different.
2. Coach Trip Terminology – What an Orientation Tour Actually Is?
My point really is that if you see "orientation tour" in the description of what is included in your coach holiday, don't expect a full blown tour with a local guide. You are not going to get that.
You should really expect an orientation tour focussing on what is nearby and how to get around – anything more than that is a bonus.
Over the years I have seen companies move away from using local guides with some companies now expecting the Tour Managers to do all the guiding for all the excursions and all the commentary on the coach as well for the duration of the coach trip. Given the coach trip can be a couple of weeks that's quite a long time!
It seems clear that they have been doing this as a matter of cost saving. Logistically it can also be quite challenging to sort out local guides, confirm all their details, and sort out with them where the tour needs to go and what you need to see. Each local guide has a different way of doing things which can also be challenging for a Tour Manager to deal with.
No tour is generally the same when you use a local guide in the same way that each Tour Manager is different. I have worked with my fair share of local guides who weren't great and I have even sent some of them home.
That said a local guide is generally a local expert, able to give much more in-depth information about a place, museum, or area. Often they will have personal experiences and stories to add to their tour which I think always helps.
A good local guide can help you see a place in a new way and having done tours to the same places with different guides I have really noticed all these differences and learned a great deal accordingly.
From a tour point of view, it can be quite monotonous if the only voice you are hearing is that of the Tour Manager. If they are doing all the guiding, all the coach commentary, and all the practical information about the coach holiday as well that is certainly a lot of talking.
A local guide can add a change of voice, a change of tempo, and a change of focus and interest.
If you see several "orientation tours" on your coach trip brochure it might be worth asking a bit more about this.
In fact it might be worth asking more about who will be doing the guiding for your coach trip whatever the wording on the brochure says.
Doing a bit of research into coach trip terminology can help ensure you fully understand the differences between holidays and help find the right tour for you.
3. Coach Trip Terminology – Conclusion
As with many other things, a bit of research pays dividends when it comes to coach holidays.
It's always worth double-checking the meaning of the coach trip terminology you see in your itinerary. This can help avoid disappointment and avoid confusion on your holiday.
As with many things if in doubt don't assume – making the wrong assumption about what coach trip terminology means, whether an orientation tour or something else can lead to disappointment on your holiday.
Next….
Go to my Coach Holiday Expert page for lots more resources and information relating to Coach Holidays
Coach Holiday Companies
Check out these companies if you want to read some coach holiday itineraries and get some ideas for your next trip.
Author Bio
Melanie Newdick, The Professional Traveller
These Might Be Helpful
If you have found this article on Coach Trip Terminology useful then you might also like;
10 Things To Know About Coach Trips – my absolute top tips to know before you book, whether a newbie or old hand
9 Reasons to Choose a Coach Holiday – based on why my guests have chosen coach holidays
10 Coach Holiday Hacks – for an even better coach holiday experience
The Coach Holiday Tour Manager – what they really do!
Check out my Coach Holidays page for more information
Other Articles