Looking for a hotel that is within walking distance of Luton Airport?
Check out this review of a one night stay including a video room tour at the Holiday Inn Luton Airport.
Author Bio – Melanie Newdick, Hotel Expert
Stayed in over 700 hotels during +36 travel career
Spent +10 years actually in hotels during my lifetime
Stayed in hotels with holiday groups (+9,500 people) + as leisure & solo traveller
Check out my top money saving resources
The address of the Holiday Inn Luton is;
London Luton Airport, Airport Way, Luton LU2 9LF
How Far Is Holiday Inn Luton Airport from Airport?
The Holiday Inn is a 10 minute walk from Luton Airport. There is also a shuttle bus that goes from directly outside the hotel to the airport.
2. Holiday Inn Luton Contact Number
The telephone number of the hotel is;
3. Getting from the Airport to Holiday Inn Luton (And Back)
There is a shuttle service that runs between the Holiday Inn Luton Airport and the airport terminal building.
Shuttle Bus From Luton Airport to Holiday Inn Luton Airport
As you exit Luton airport head to stand J. You need Airport Bus A. The hotel is approximately 5 minutes ride from the airport.
You pay on board the bus, which is card only, and it is £1.30 per person each way.
The timetable is also displayed at the airport and the bus runs every 10 minutes or so at peak times.
Check the bus schedule with Arriva.
Shuttle Bus from Holiday Inn Luton to Luton Airport Terminal
To return from the hotel there is a stop right outside the hotel. Just put out your hand when you see the Arriva bus service A and pay on board with your card to get back to the airport. There is plenty of room for luggage on board.
Taxi Between Holiday Inn Luton and Terminal Building
If you take a taxi from the airport to the hotel the cost is about ?10 each way depending on the time of day. It is less than 10 minutes ride between the airport and the hotel.
There is parking onsite at the Holiday Inn Luton Airport.
This is payable at £13.00 per night.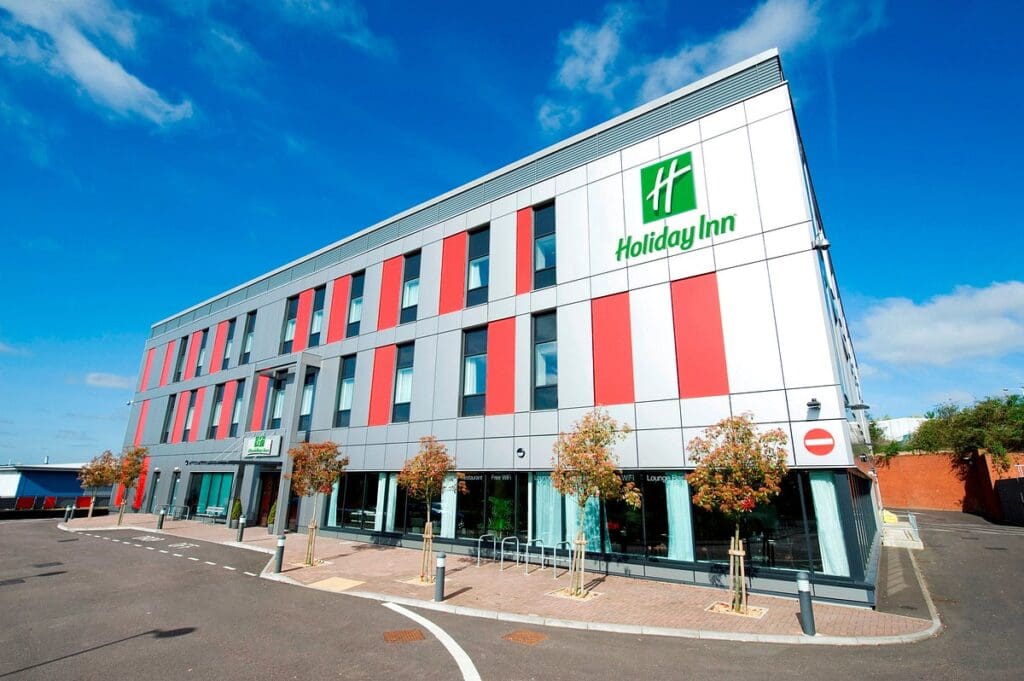 When I stayed checking in was quick and easy.
The reception desk is just in the main entrance of the hotel.
There is a small shop there selling supplies and snacks.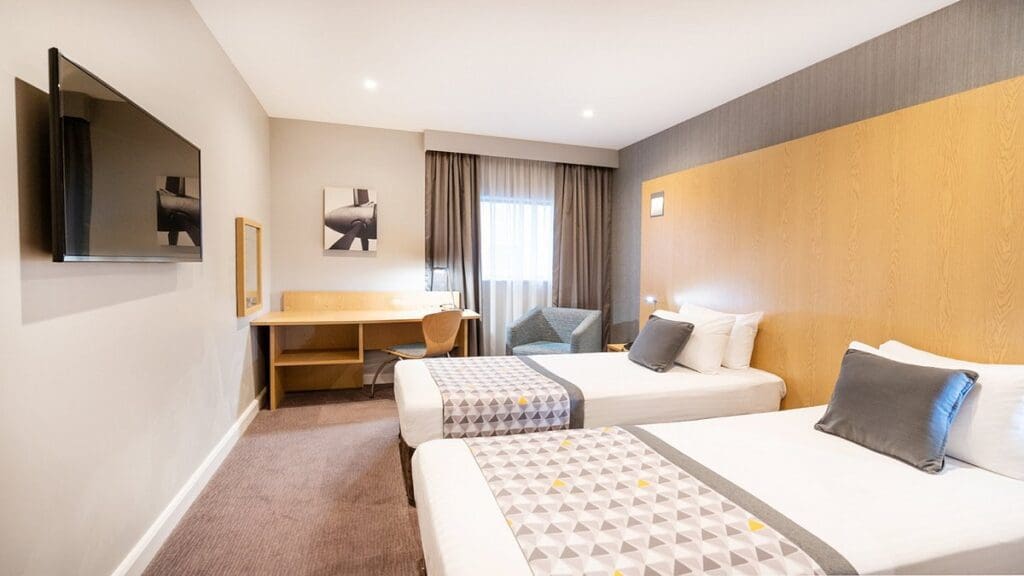 6. Holiday Inn Luton Airport Facilities
The Holiday Inn Luton Airport has 124 bedrooms over 3 floors
Free WIFI is included for all guests
There is a business centre at the hotel
The gym is available 24 hours a day
7. Holiday Inn Luton Airport Breakfast Times
Breakfast
Monday to Friday 6am to 9am
Saturday, Sunday and Bank Holidays 8am to 10am
(The first hour of breakfast is continental only)
8. Holiday Inn Luton Airport Restaurant and Menu
There is an on site restaurant which has all day dining available.
The all day menu is available from 10am to 10 pm 7 days a week. Check out the available menu.
The bar and restaurant are open from midday to 3am and from 6am to 10 am
9. Holiday Inn Luton Airport Room Service and Menu
Room service is available 24 hours per day.
Check out the room service menu.
Each order is subject to a tray charge of £3.00
11. Holiday Inn Luton Airport – Professional Traveller Summary
This was a comfortable hotel to spend an overnight
The price, £44, was great value for a double bedded room
The room was clean and quiet
It is very quick and easy to get to the airport from this hotel
It was an ideal overnight stay at Luton Airport
12. Find Great Online Price for the Holiday Inn Luton Airport
13. Find a Great Hotel Deal near Luton Airport
14. Check Out These Great Hotel Deals in the Area
Further Reading
If you have found my review of the Holiday Inn Luton Airport useful then you might like;
Inverness Airport Hotel review – including video room tour and pictures of the runway view
Ibis Budget Birmingham Airport review – great hotel just across from the terminal building
6 Fab Flight Hacks – to find great flight deals
For more trip ideas check out my Travel Inspiration page
Other Articles You Might Like