Looking for some super cute lodges with hot tubs Inverness?
Well, you are in the right place!
Inverness is a great base for a stay in the Highlands, giving you great access to all the attractions that the Highlands has to offer.
For now, let's get cracking finding you a great lodge with a hot tub to stay in!
Lodges with Hot Tubs Inverness
The Treehoose is tucked into a quiet corner of Inverness. It's very near to everything yet its location gives it a quiet and tranquil feel.
The Treehoose has a lovely sleek modern feel throughout with mood lighting, a power shower and of course that amazing hot tub too!
The bedroom has a king size bed and the bathroom has a big bath and a power shower.
Out on the deck, there is a sunken hot tub for you to enjoy relaxing in.
The Treehoose is well equipped with a coffee machine and washing machine and superfast broadband too (we get quite excited about that in the Highlands!)
It also has parking on site.
If you are looking for a lodge close to the action, but with privacy too then the Treehoose could be just the spot for you.
(The Treehoose is adults only)
Check out the reviews of the Treehoose on Tripadvisor
Check out more photos of the Treehoose
Pop your dates and check the Treehoose availability
Lodges with Hot Tubs Inverness
Pebble Beach has direct access to the pebble beach at Culloden (yes it's the same Culloden where the battle between the Government and Jacobites took place).
Pebble Beach is a lodge set alongside the Beauly Firth where a pod of Bottlenose dolphins live.
The lodge has 4 bedrooms, plus a sofa bed in one of the lounges (yes there are two!).
In the open and spacious main lounge, you'll find a wood burner and amazing views over the sea through the floor to ceiling windows.
Out in the garden you will find a wood fired hot tub and an amazingly cute BBQ hut next door, both of which look out to the sea as well.
There is plenty of parking on site too and all the equipment you would expect to find in a luxury holiday home.
Pebble Beach also accepts up to 2 dogs at an extra £20 per dog per week.
Check out the reviews of Pebble Beach
Check out more pictures of Pebble Beach
Check availability and pricing for Pebble Beach (from £1368 to £2838 per week)
Lodges with Hot Tubs Inverness
OK so these lodges are not in the centre of Inverness but I had to include them. They are very close to Inverness, just across the water at North Kessock. That means all the attractions of Inverness are within easy reach, plus you are a bit more out in the countryside too.
There are 3 lodges with hot tubs in Inverness available at Kessock Highland Lodges.
2 lodges are one-bedroomed, and one is 2 bedroomed.
Each lodge has either a jacuzzi bath, steam shower with jets or both.
Each lodge also has its own jacuzzi and a rotating pod to ensure you can enjoy the outdoors whatever the weather. These look like a fab place to chill and chat with family and friends.
The views from the lodges are out over the Beauly Firth looking back towards Inverness.
The lodges are also well equipped with coffee machines, high thread count linen and everything provided from toiletries to tin foil, tea and coffee.
If you are looking for a pampering relaxing hot tub lodge break then Kessock Highland Lodges are for you.
Check out the Tripadvisor reviews of Kessock Highland Lodges
Check out more pictures of Kessock Highland Lodges
Check prices and availability for Kessock Highland Lodges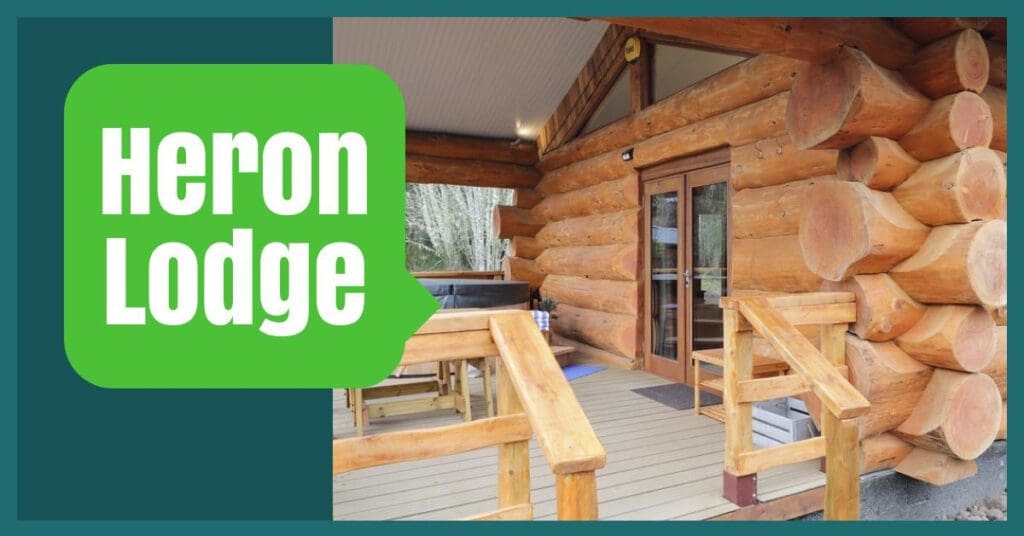 Lodges with Hot Tubs Inverness
Heron Lodge is a 2 bedroomed lodge just over the water from Inverness. This means it is located within 4-5 miles of Inverness itself, giving you a great combination of a quieter area to stay in plus easy access to Inverness.
The location is close to the Beauly Firth, a lovely body of water which is alongside Inverness. A pod of dolphins lives here so the area near Heron Lodge is a great place to try and spot them.
Heron Lodge has 2 bedrooms, a double with an en-suite bathroom and another bedroom that can be a double or a twin bed.
It has an open plan living area with a lovely covered terrace area, which is where the hot tub is located too.
You'll be nice and cosy with LPG heating along with a woodburner.
Heron Lodge is well equipped with a cooker, microwave, dishwasher and washing machine.
There is a TV with Freeview and free WIFI in the cottage.
The lodge is pet friendly.
Heron Lodge is also no smoking throughout and given the woodland location of the cabin, there is no smoking on the grounds either.
Heron Lodge is one of two lodges with hot tubs in Inverness, at the same site meaning you can easily stay with family or friends.
See more pictures of Heron Lodge
Read the reviews for Heron Lodge
Check prices and availability for Heron Lodge (from £1099 per week)
Lodges with Hot Tubs Inverness
Moorhen Lodge is the sister lodge to Heron Lodge detailed above. As such the facilities and amenities are the same for the lodge as follows;
Two bedrooms – a king bedroom which has an en suite bathroom
The second bedroom is a zip and link bed meaning it can either be a twin or double
There is a family bathroom
The main part of the Moorhen Lodge is open plan with a woodburning stove, TV with freeview and LPG heating
In the kitchen, you will find a dishwasher, microwave, oven and washing machine
The hot tub is located on the terrace of the Moorhen Lodge giving it a cosy snug feel
There is parking on site for 2 cars
Moorhen Lodge is pet friendly and will take 2 dogs
There is no smoking in Moorhen Lodge or in the grounds around the lodge as it is a woodland area
As with Heron Lodge above the location of Moorhen Lodge gives you a peaceful escape, close to the water of the Beauly Firth.
Check out the reviews of Moorhen Lodge
Check out the photos of Moorhen Lodge
Check pricing and availability of Moorhen Lodge (from £1099 per week)
Further Reading
If you have enjoyed Lodges with Hot Tubs Inverness, you might be interested in;
Highland Cottages with Hot Tubs – check out these great holiday homes throughout the Highlands
Dog Friendly Cottages Inverness – if you want to bring your furry family members there are some great options here
Holiday Cottages Inverness – if you want more Inverness holiday options then check out this list
12 Self Catering Holiday Tips – top tips to help you have an even better holiday experience
10 Things to Know Before You Visit the Highlands – these key tips will help you have an even better visit
If you want some more ideas for your next trip then check out my Inverness page
Other Articles You Might Like