Are you looking to stay beside Sabiha Gokcen airport?
Check out my review of the ISG Sabiha Gokcen Airport hotel – it's a lovely hotel, with great rooms and just a short shuttle (free) ride to the airport.
The Sabiha Gokcen Airport hotel is actually an onsite hotel called the ISG Airport Hotel.
I stayed for one night in early November 2019 as I was flying out the next day from Sabiha Gokcen to Baku.
I arrived on one of the transfer buses from Taksim Square which drops passengers at the upper level of the airport. I could see the hotel and thought I would walk across to it, but due to a lack of infrastructure it is not possible to walk.
To reach the hotel you need to go down to the ground floor and look for the sign for the hotel shuttle bus. It is located next to the gun-loading point!
There is a telephone there which you use to dial reception and they will send the bus over. The phone didn't sound/feel like it was working, but it was.
I dialled the hotel and they answered promptly and said they would send the shuttle bus over to pick me up.
The shuttle bus driver was very friendly and chatty which was a lovely welcome, especially after a bit of a difficult time in Istanbul and not a great hotel experience in Taksim Square.
The check-in was very easy and again very friendly.
The driver then became the porter and showed me up to my room which was sweet.
The hotel seemed very new when I stayed there and there were very few other customers.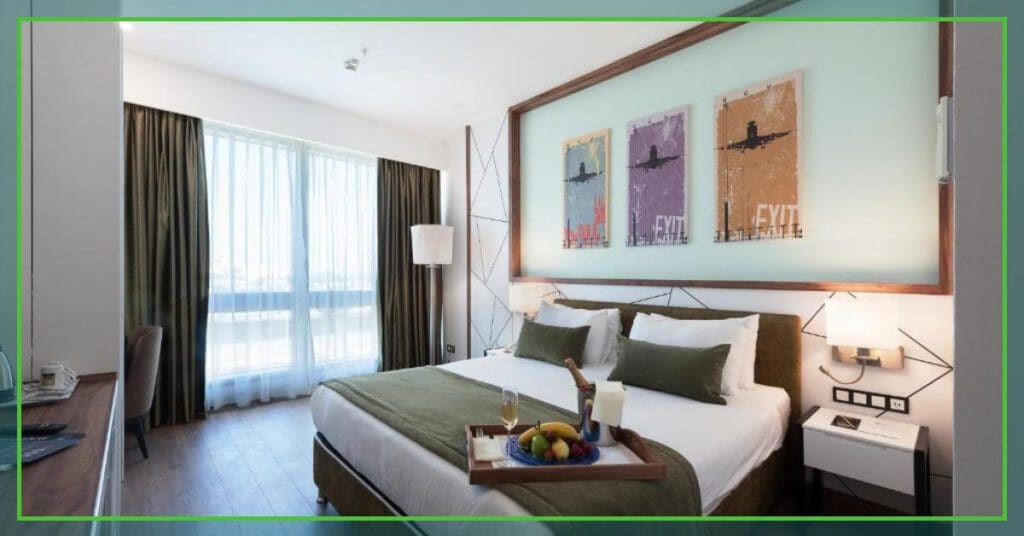 The room was very clean and tidy – not just clean and tidy but spotless.
It had a good selection of lighting, with plenty of lights
There was a little vanity desk area which was cute and this had lights around the mirror
The room facilities were very good and it included a kettle and tea/coffee
The shower was fab and it was huge
The room had opening windows which was good because it was quite hot when I arrived due to the setting sun through the windows
The curtains were great and were blackout so it was easy to make the room dark to sleep
There was a small shop on the ground floor selling gifts and snacks
On the ground floor was also a restaurant and bar where I enjoyed a nice meal because I was too tired to go back over to the airport. The service was great and the food was good too. I was the only person in the restaurant! There was a BBC news channel on in the restaurant too which was interesting to see as I had been away from home for a few days by then.
The restaurant had an extensive menu with lots of choices. I ate a simple pasta dish which was very nice.
There was a friendly and welcoming hotel bar.
The restaurant looked over a small garden that was being built. This was a welcome bit of greenery which formed the central courtyard of the hotel.
The shuttle bus service was great. I used this to head back over to the airport not long after I arrived so I could see the facilities and check our arrangements for the morning. I also picked up a few snacks to enjoy in my room later on so I could get an early night as I was very tired. It also meant you could pop over to the airport if you wanted more choices of places to eat.
This was a great hotel experience and enabled me to regain some of my energy for continuing my trip to Baku.
I thought the hotel offered good value for money and very friendly service.
Pop your dates in below to find the lowest prices available online.
Further Reading
If you have found this Sabiha Gokcen Airport hotel review handy then you might like;
My Istanbul City Break review – my first time in Istanbul as a solo female traveller.
You can find more reviews and guides on my Travel Inspiration page
Other Articles