Nestled at the crossroads of Europe and Asia, Baku beckons intrepid travelers with its unique blend of ancient heritage and modern grandeur.
As the vibrant capital of Azerbaijan, Baku is a city that tantalizes the senses, where futuristic skyscrapers stand in harmony with historic palaces, and bustling bazaars intermingle with high-end boutiques.
A Baku holiday promises an immersive experience like no other, where the echoes of the Silk Road meet the energy of a cosmopolitan metropolis.
(Jump to Baku Holiday Video)
Let's start with where Baku is. It's in Azerbaijan on the Eastern coast. The map below shows Azerbaijan.
Baku Holiday – Summary of Visit
| | 1 = Poor, 5 = Excellent | Comments |
| --- | --- | --- |
| Personal Safety | 5 | Safe walking anywhere at anytime |
| Cleanliness | 5 | |
| Scenery | 5 | City had lovely architecture |
| Friendly People | 5 | Very friendly welcome & departure |
| Weather | 4 | 20 degrees |
| Getting There | 5 | Direct flight from Istanbul |
| Facilities | 4 | Apartment with jacuzzi bath |
| Value for Money | 5 | Overall trip was great value |
| Hotel Cost | £75 | Apartment with balcony, jacuzzi bath |
| Date of Stay | October 2019 | |
| Why Visit? | | Off the beaten track |
Baku Holiday, Summary of Visit
---
Author Bio – Melanie Newdick, Professional Traveller
+36 years travelling for work. Visited +40 countries (many multiple times)
Stayed in over 700 hotels. Taken +9,500 on coach holidays
Check all out my best money saving resources
---
1. Baku Holiday – Weather in Baku
Is Baku Good for a Holiday?
Baku is great for a holiday. Not only can you see some amazing architecture, but there is also great history to enjoy, fab food and friendly, welcoming locals. It's also not that visited so you will feel like a real explorer!
As you can see from the annual average weather chart below it can get quite cool in the winter and quite hot in the summer.
Something to consider is the wind that comes off the sea in Baku as well. Its location means that the wind can be quite strong and quite cold, so whilst a temperature of 8 degrees might seem OK the wind factor can make it much colder.
I visited Baku at the end of October. The weather was pleasant and I didn't need a coat or extra layer until it got dark and then only because the wind was making it cooler. It was pleasant to sit outside during the daytime too.
Below is the current weather in various places across Azerbaijan.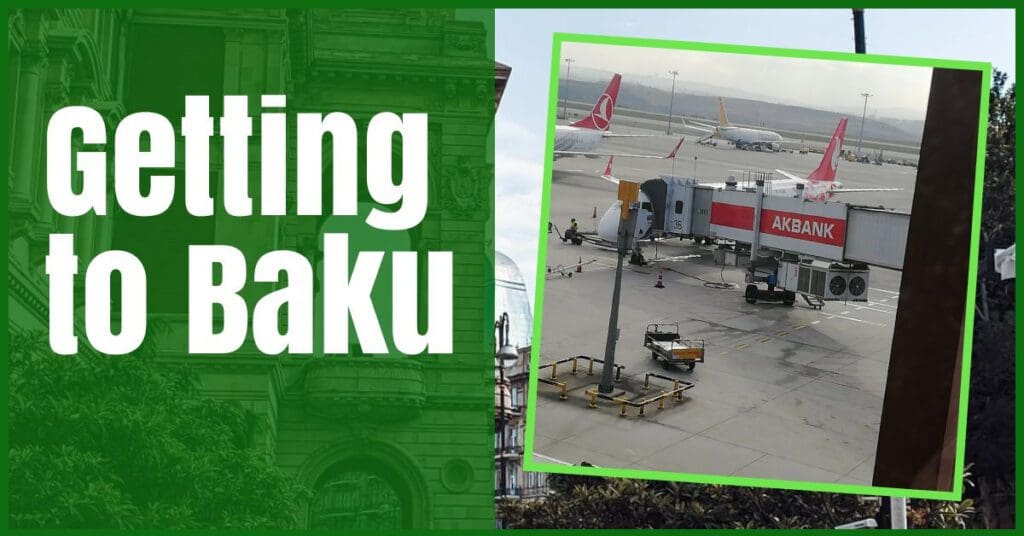 2. Baku Holiday – Getting to Baku from the UK
Baku is fairly straightforward to get to from the UK, with direct flights from London with Azerbaijan Airlines.
For my trip, I did a reverse flight search. As a result, I managed to find a really cheap flight from Istanbul to Baku. It was with the budget branch of Azerbaijan Airlines, called Buta Airways.
It was easy to book the flight online and to book luggage as well. The flight cost worked out to around £45, which given the flight time is 2 hours and 45 minutes away, seemed very reasonable.
Having found my flight route to get to Baku I decided to do a two-stop trip, spending 4 nights in Istanbul before heading to Baku for 3 nights. Check out my Istanbul City break details, which include where I stayed, getting and where I visited.
Buta Airways flies from Sabiha Gokcen Airport (SAW) airport in Istanbul. This is not the main newer airport. It is easy to reach this airport by bus from the city centre, and it takes around 1.5 hours to get there.
I ended up staying at the Sabiha Gokcen Airport Hotel which was great and made it a much less frantic and early start to the day.
Sabiha Gokcen Airport is like many airports, in that everyone entering the airport has to scan their belongings at the entrance.
The airport has a good selection of cafes and shops for something to eat before the flight.
The flight to Baku was on an Embraer aircraft. It was clean and comfortable, although I appeared to be the only non-local person aboard.
Check out flight costs for the year from London to Baku,
The schedule below gives you an idea of the flight schedule from London to Baku each day, so you can see what airlines fly and the days they operate.
The schedule below shows the prices for getting from Istanbul to Baku for the year.
The grid below shows the schedule of flights each day from Istanbul to Baku.
3. Baku Holiday – Getting a Visa
You do need a visa to enter Azerbaijan. This is very easy and simple to get through the E-Visa service.
The cost is $24 and once you have filled in the application online and paid you simply download your visa.
You need to apply at least 3 days before you enter the country.
4. Baku Holiday – Arrival at Baku Airport and Getting to the City Centre
Arriving in Baku was relatively easy. The airport is very new and modern – it's the Heydar Aliyev Airport.
Passport checks were speedy. The luggage was prompt too.
There is a place to get Baku currency at the airport and I would recommend doing this. I didn't and it caused quite a few problems later in the day.
Just before going through into the arrivals hall, there is a taxi desk where you can book a transfer into the city if you haven't done already.
The airport was very large, clean and modern.
There is a bus which runs throughout the day from the airport terminals to the city centre. Tickets bought using a Baku Kart at 1.50 AZN. You would need to buy your card at the airport first. It doesn't say on the airport details if you can buy your ticket on the bus.
Read more information on Heydar Aliyev Airport.
It takes about 30 minutes to reach the city centre from the airport. The map above shows the distance from the airport to the Baku city centre.
The drive into Baku is very interesting – there are some fantastic buildings along the way including one that looks like a giant candle complete with holder!
5. Baku Holiday – Baku Currency
The currency in Azerbaijan is Azerbaijan New Manats. The exchange rate is around 2.5 AZN to £1.
6. Baku Holiday – Holiday Accommodation
There are plenty of hotels to choose from in Baku, with prices and facilities to suit all budgets.
Check out the map below to find the best prices across the city.
If you click on the price box you can see the name of the hotel, guest rating and a picture. Check prices to see more information and get details for your dates of travel.
Below are the best hotel deals for Baku – these are the most popular hotels for visitors.
7. Baku Holiday – Jireh Baku Royal Apartments
My apartment was at the top of a large block of flats. There were 3 blocks in the development and at the bottom of one block was a convenience store.
The apartment had a lounge, with a large leather couch. The TV cabinet was quite ornate but it didn't work. There was a kitchen with a dining area which included a gas stove. The double bedroom had large storage units and the bathroom had a massive jacuzzi bath.
WIFI was included and there was a small terrace area which looked out across the main road and the sea.
For 3 nights I paid around £75 for my stay which I thought was very reasonable.
Other Places to Stay in Baku
Intercontinental Hotel
Flame Towers
8. Baku Holiday – Getting Around Using Baku Kart
Public transport is a great way to travel when visiting anywhere really. Baku Kart, is a contactless payment card for public transport, a bit like an Oyster card in London.
All public transport in Baku is now cashless so you need to have your own Baku Kart before you board. You can buy these at the metro stations.
I hadn't had the chance to buy one and had wrongly thought I could buy it on the bus. Thankfully a lovely local girl paid for my fare into town.
Buying a Baku Kart is relatively straightforward. The instructions are available on the machine in English.
I used the metro and buses every day and it cost me around £5 in total for the 4 days, 3 nights that I was in Baku.
A Word of Warning!
I read on another blog that when scanning your Baku Kart some young people had pushed through the barrier at the same time to avoid paying. This happened to me, only once, with some teenage girls. I had half expected it so it wasn't so much of a surprise.
Check out the Baku Kart page for more details on costs, passes, and routes.
The Baku Kart is the official card for public transport.
There is also a Baku Card which is a pass which offers free transport, along with discounted entry to various museums. A 24-hour pass costs 12 Euros and a week-long pass costs 35 Euros. Like all pass schemes, it is a question of whether the discounts are worth it, based on what you want to see and do.
9. Baku Holiday – Things to Do in Baku
The main part of the city is very easy to explore on foot.
There is a large promenade dotted with gardens, cafes and sculptures. It is a very pleasant place to walk and see locals doing exactly the same thing.
There are various features along the promenade including the Baku Eye, a large observation wheel.
The Carpet Museum is a very large building shaped like a roll of carpet.
There is also a cute area called Little Venice which has some attractive water gardens.
Sculptures and interesting plants are dotted through the garden. There is an interesting display of all the Formula One racing drivers.
10. Baku Holiday – Baku Tea
Many of the cafes in the gardens serve traditional Baku Tea. This is black tea, served with a variety of jams. The tea is poured into the cup and then the jam is added for sweetness. There are often some snacks/cakes served with tea. This can be nice to try during your stay but it can be frustrating when all you want is a drink. The cost can be quite high too. In one cafe the cost worked out to £15.
There seemed to be an expectation that tourists would pay for the full tea service, with some cafes saying it was that or nothing.
As such it is worth checking this before you sit down, otherwise it could be quite expensive.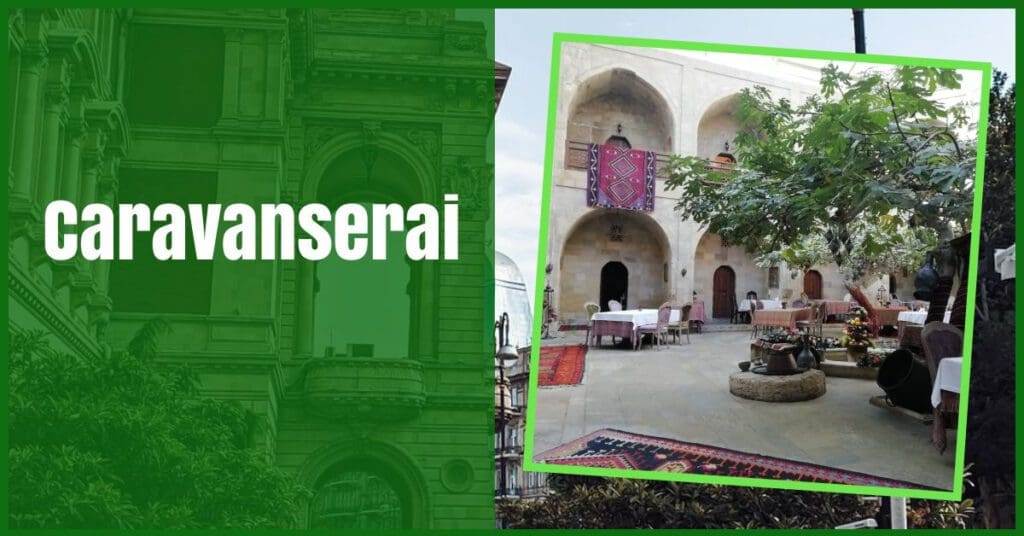 11. Baku Holiday – Eating and Drinking
Eating new dishes is always a great part of travelling. Here's where I ate during my stay;
Caravanserai were buildings that provided shelter, food and stabling to those travelling along the Silk Road.
The Mugam Club is a restaurant housed in an old Caravanserai. The restaurant said it was open for breakfast but it didn't actually have a breakfast menu.
It was no problem though – I had a meal of bread and cheeses instead.
The building was spectacular and it was worth going just for the experience of being there. I was the only person in the restaurant which made it very quiet.
It would be spectacular to go in the evening when the building was lit and there was a lively atmosphere.
Baku Holiday – Old Baku Tea House
The oldest tea house in Baku took a little finding. The entrance was quite unimposing and easy to miss.
The decor was nice with cushions and tapestries. There are little snugs and seating areas giving the place an intimate feel.
When I visited the walls had large TV's all over them playing pop videos which I found rather distracting.
I absolutely loved this restaurant. It is in one of the main squares and close to the old town.
The House Cafe was very popular and busy with locals. The waiting staff were very friendly and helpful and spoke English which was great.
I had breakfast there which is shown in the photograph above. As you can see it was beautifully presented and absolutely delicious.
I enjoyed some lovely non-alcoholic drinks too. The toilets were very clean and it was a lovely spot to watch locals enjoying the cafe too and also enjoying the open space of the square.
I returned the next day and had a lovely lunch with salad-topped breads as shown in the picture below.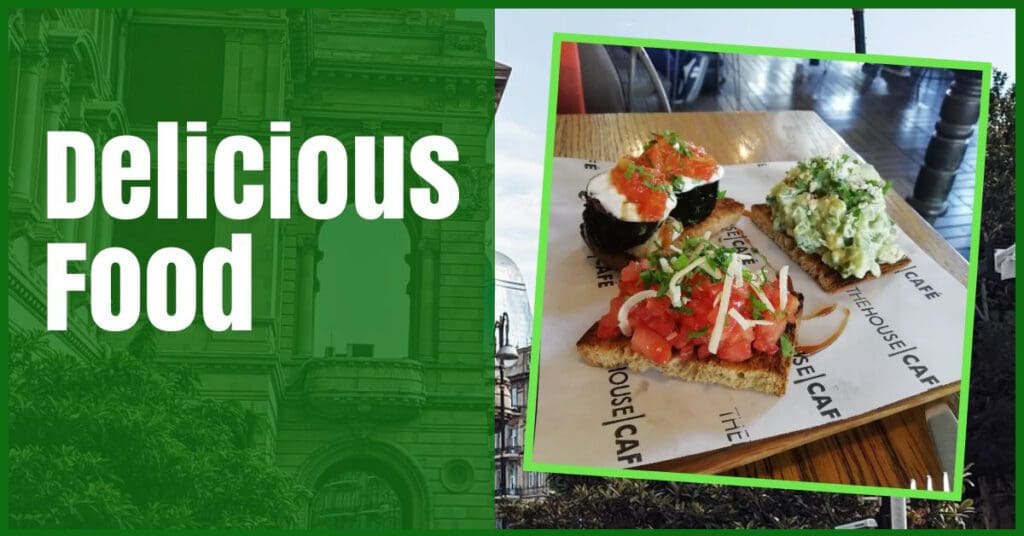 When visiting Baku the Heydar Aliyev Cultural Centre is an absolute must.
It is easy to reach using the metro and then walking several blocks to reach the Cultural District.
The area around this space age and wonderful building is landscaped and the conference centre has an interesting design too. In the grounds there was some interesting public art.
The walk to the Cultural Centre meant walking through the residential area and it was nice to see a bit more of local life.
On my return journey, I got off at the wrong station and ended up having quite a long walk back. This turned into an adventure when I discovered the underground shopping malls. These were in the underpasses which are a frequent part of Baku. Some have escalators but many just have steps so walking around Baku as a pedestrian often involves going under roads or over footbridges.
Azerbaijan Museum of Independence and Miniature Book Museum
Having planned to visit both these museums I failed dismally to find either. Despite going all round the block where the Independence Museum was supposedly located I could find no sign of it at all. That was disappointing given the interesting subject.
I had the same issue with the miniature book museum.
It felt like an issue with Baku being open for visitors but not quite having joined all the dots of highlighting things to do and places to visit.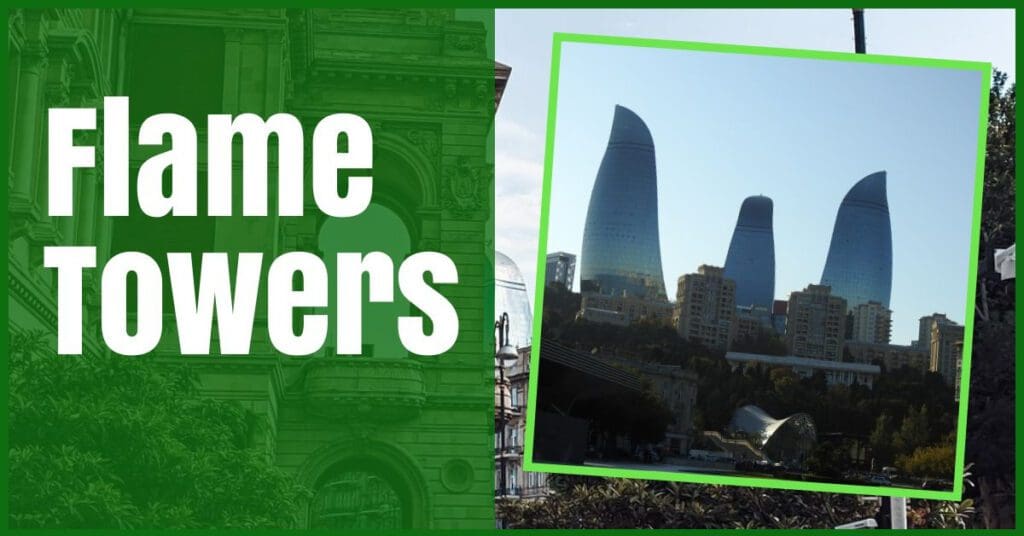 14. Baku Holiday – Visiting the Flame Towers
The Flame Towers are an iconic building in Baku. They stand on the hill above the bay and are a dramatic and beautiful sight. You can stay in the Towers, which as you can imagine is quite expensive.
The Flame Towers are worth visiting during the day, because of the viewing areas nearby which give amazing views across the bay of Baku.
They are also worth visiting at night when you get a fantastic view of the colour-changing lights, which cover the Flame Towers themselves. It is really spectacular and worth seeing if you get the chance.
To reach the Flame Towers from Baku there is a funicular which will take you up to the base of the towers.
Nearby are some lovely gardens. There are quite a lot of steps if you head over to the viewing terrace but it is well worth it.
Also nearby is Martyrs Lane. It shows the pictures and details of the local people killed when fighting the Russians. It's a very moving tribute.
15. Baku Holiday – Public Transport Issues
Public transport in the evening seemed a little hit and miss. Having waited in the city to visit the Flame Towers I headed down to the main road to pick up a bus heading towards my accommodation.
Unfortunately, the bus stops were in the city centre and there were no other stops along the route. As such I ended up walking along a busy road at night. I eventually found a taxi rank and got a taxi back to my hotel. The driver didn't want to charge me and again I had to insist.
On another occasion, I managed to get a bus heading in the right direction but ended up at a bus terminal where the bus route finished. This didn't seem too far away from where I was staying. I took the opportunity to visit a local supermarket which was fab. It was packed with local items and I stocked up on some gifts for home, including Azerbaijan tea.
Having seen my accommodation I then headed off through a scrubby residential area, full of dogs running about. The roads were unmade and there were lots of ramshackle buildings. It didn't feel like the best place to be walking through so I just kept focussed on where I was going.
I navigated past some chemical and cement works and made my way around the back of the residential buildings to the main road. It was a part of Baku that I felt most people didn't get to see.
16. Baku Holiday – Is Baku Safe for Solo Female Travellers?
I felt very safe in Baku. On arrival, I had to get a taxi into the city centre to get some money and some shopping. As I didn't speak any of the local language, or any Russian, I had to mime to a taxi driver where I wanted to go and what I wanted to do. He was lovely and drove me around for an hour, for a total cost of £10.
Having not realised that public transport was cashless I tried boarding a local bus, and a local girl paid for my ticket.
I also couldn't find a bus later in the evening and a taxi driver took me back to my apartments, he didn't want paying.
17. Baku Holiday – Things to Do in Baku
Baku Holiday Video
18. Baku FAQs
Is Azerbaijan worth visiting?
Azerbaijan is definitely worth visiting. Baku the capital city has plenty of attractions and there are some great trips and tours from there to remoter areas of the country.
Is Baku good for a city break?
Baku is great for a city break. It is a very interesting city with some fabulous architecture to explore. It is not as well visited as some other cities so it's a great time to discover it – before everyone else does!
Is Baku a nice city?
Baku is a very nice city. It is quirky and easy to explore on foot. There is great public transport for travelling around and the local are very friendly.
Where should I stay in Baku?
Staying in the downtown, or central part of the city near the harbour will give you the best access to the attractions and public transport.
Do you need a visa for Baku?
You do need a visa to visit Baku. It is easy to apply for using the EVisa online service.
Can you fly direct to Baku from the UK?
You can fly direct to Baku from London Heathrow to Baku on Azerbaijan Airlines.
Further Reading
If you have found my Baku Holiday review article useful you might also like;
Istanbul City Break – a review of a 3 night stay in the this busy, bustling city
Valencia City Break – less visited than some other cities with a lovely historic centre
Riga City Break – a really lovely city with the largest food market in Europe
6 Amazing Flight Hacks – to find great deals and new destinations to visit
If you would like ideas for your next trip check out my Travel Inspiration page
---
Author Bio – Melanie Newdick, Professional Traveller
+36 years travelling for work. Visited +40 countries (many multiple times)
Stayed in over 700 hotels. Taken +9,500 on coach holidays
Check all out my best money saving resources
---
Other Articles