Are you looking for some packing hacks to help when travelling?
I've been travelling professionally for 30 years, I've learned lots about packing – mostly the hard way!
Let me share with you my 9 Packing Hacks to shortcut you to happy packing!
So let's jump into my list of packing hacks to help you travel more lightly on your next trip, but also ensure you have everything you need.
---
Author Bio – Melanie Newdick, Professional Traveller
+36 years travelling for work. Visited +40 countries (many multiple times)
Stayed in over 700 hotels. Taken +9,500 on coach holidays
Check all out my best money saving resources
---
1. Packing Hacks – Wear Your Heaviest Shoes When Flying
I have to confess I am not a shoe addict – if you are you might find this packing hack a bit tricky!
If you are travelling for a short trip then you probably only need 2 pairs of shoes. Of course that depends on the type of trip a little bit too. If you are going on a cruise with formal dinners to attend two pairs of shoes won't cut it! Likewise, if you are planning on walking or hiking you will need different shoes. However, for a trip up to around 5 days, a couple of pairs of shoes can be enough.
A good tip is to wear the heaviest pair when you are flying to help make your suitcase a little lighter. You can easily change your shoes when you get your luggage back if it is checked, or once you are past check-in and security if it is hand luggage.
I'm not including flip flops (or thongs as they are known in Oz) in my shoe allowance and I often include a pair of these in my case for walking around hotels, and pools. They are so lightweight and take up so little room that they really don't count.
There are also some great lightweight shoe options available. Skechers have a good range of comfy yet supportive shoes and sandals that are lightweight too.
Packing Hacks
2. Use Packing Cubes
Packing cubes were a bit of a life-changing thing when I found them some years ago. They are simply little bags that you can pack different items into, generally with zips and handles to keep them organised and make it easy to get out of your case.
Packing cubes are one of my favourite packing hacks!
For many years I had used those vacuum bags that sucked the air out of the bag and kept everything nice and squished so it didn't crease. However, that often meant rolling around on the floor trying to get the air out of the bags to pack them and it meant doing that every time the bag needed closing again.
Packing cubes don't require any of that.
There are two types of packing cubes. Regular cubes and compression cubes. Compression cubes generally have another zip to squish the clothing down further so the cube takes up less room in the case. This can require quite a bit of strength to do and a bit of squeezing the zip along – having tried them I'm not a fan as I'm not convinced the compression is worth the effort.
Packing cubes are great because you can organise your clothes. I organise daytime, evening and underwear separately so I easily get to everything.
You might also like;
Packing Hacks
3. Take Easy to Wash Underwear
Without sharing the details of what underwear I wear, which would just be too weird, when it comes to travelling I like underwear that washes and dries easily, something lightweight.
Having lightweight easy to wash and dry underwear means you can take less with you and wash and dry as you go along.
I know some people who just take a couple of pairs and wash and dry them every couple of days – whether that is practical for you depends on your trip and your itinerary. Personally, the thought of only travelling with 2 or 3 pairs of knickers terrifies me but each to their own!
Shampoo and soap work well for washing so there isn't really a need to take washing powder or gel with you – it's just something else to worry about.
The other thing to consider is disposable underwear. There is plenty of disposable cotton underwear available which seems a bit extreme to me, especially given the environmental cost of making cotton. There is also disposable paper underwear. My Dad used this when he travelled all over the world for business in the 70s to save him from having to bring back underwear for washing.
Packing Hacks
4. Stuff Your Shoes
Shoes can be quite awkward to pack and can take up quite a bit of room in your case.
Use that room by stuffing your shoes full of socks or underwear. It's a great way to get more room in your case.
If you have lightweight underwear as I have mentioned above then you can get quite a lot in your shoes!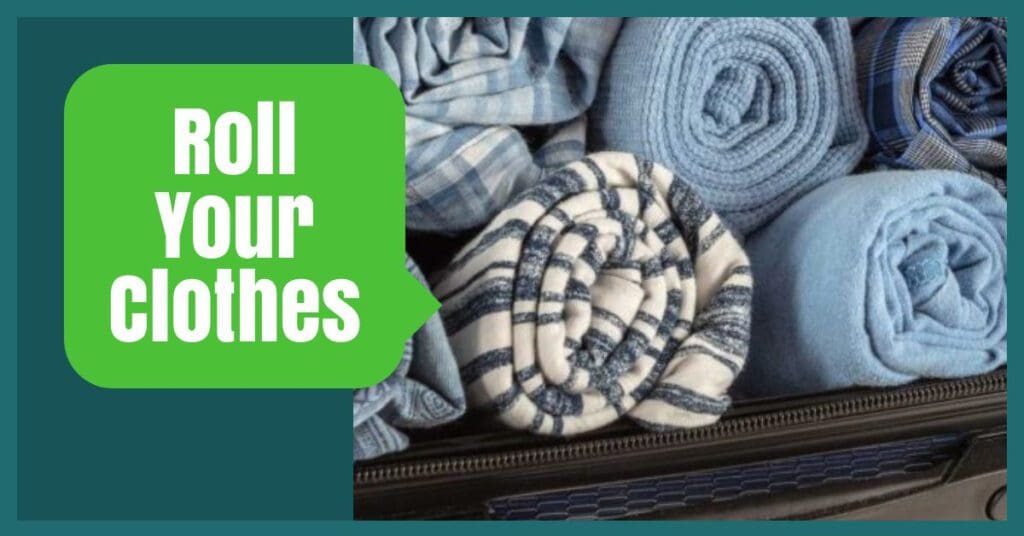 Packing Hacks
5. Roll or Tightly Fold Your Clothes
Rolling clothes can be a good way to avoid creases in clothing when travelling and also a good way to get more things in your case or packing cube. Rolling also means you see items more easily rather than having to leaf through a pile of folded items for example.
Packing Hacks
6. Put a Dryer Sheet in Your Case
If you want your clothes to smell nice why not add a dryer sheet to your case or bag?
If you are checking luggage it can often get quite cold and sometimes your clothes can end up with a bit of a damp odour as a result. A dryer sheet should help your clothes stay nice and fresh smelling – in fact smelling like they have just come out of the laundry.
Packing Hacks
7. Use Hotel Toiletries
If you are staying in the sort of hotel that has toiletries then why not use them and save yourself some luggage space?
If you are staying in a nice hotel why not take the toiletries and use them for your next hotel?
If you are planning on taking hand luggage only you are going to be limited in relation to the amount of toiletries you can take. Taking your own toothpaste and deodorant means you don't need much space in your bag. If for any reason your hotel doesn't have toiletries then just buy some while you are there. If there is some left and you can't bring it home because it's too big for the hand luggage requirements why not leave it for the housekeeping team with a little note?
Packing Hacks
8. Take a Hanging Toiletry Bag
If you are travelling on a longer trip and you are going to need more toiletries, medication etc then a hanging toiletries bag is a great idea.
If you get one that has a hanging hook you can easily hang it up when you get to your hotel bathroom and easily find everything you need.
Hanging your toiletries also means that housekeeping can clean your bathroom and they don't have to move or rearrange all your toiletries to do so (meaning less risk of any cleaning chemicals ending up on your toothbrush).
This might be helpful;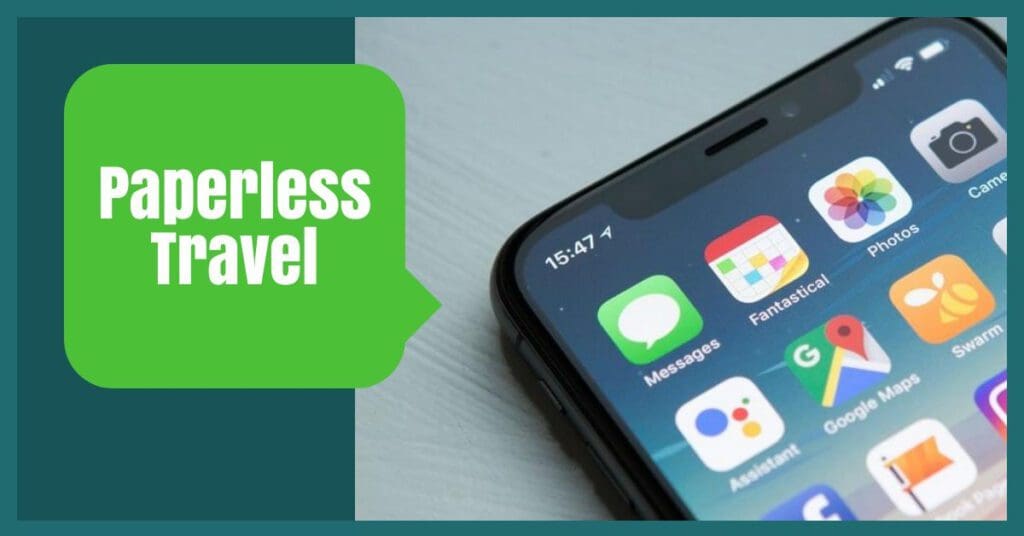 Packing Hacks
9. Ticketless Travel
Oh, tickets seem so old-fashioned, don't they? Especially in the world of apps.
Apps are fantastic for facilitating ticketless travel – lots of airlines now do ticketless travel which saves the palaver of having to print out a ticket somewhere before you get to the airport if you are doing online check in.
If you want an app that you can send all your itineraries too and will keep them in one place so you can access all your passes and travel documents then Tripit does exactly that. It's a trip planner and flight tracker app combined to make everything super simple and find everything very easily too.
One of the issues with ticketless travel is that you need enough battery to scan in and out which can be tricky if you are flying on one or more flights during the day. If you are worried about your battery not making it then perhaps book a battery booster. You need to be careful with some of these to make sure they don't contain lithium, as some planes don't allow lithium batteries in your hand luggage.
Check out a selection of mobile battery chargers here.
Packing Hacks – Summary
Generally, you need less stuff than you think when travelling! Here's a reminder of those tips.
Wear your heaviest shoes
Use packing cubes.
Take easy to wash underwear
Stuff your shoes
Roll or tightly fold your clothes
Put a dryer sheet in your case
Use hotel toiletries
Take a hanging wash bag
Go paperless when travelling
Next…
Check out my packing cubes and hanging wash bag reviews – they are great value, time savers and will help you pack and travel more easily.
You can also check out all my recommended travel gear on my Travel Essentials page.
Further Reading
If you have found this Packing Hacks article useful you might also like;
Cheap Hotel Deals – to get great hotel deals
Fab Flight Hacks – helping you find the best flight prices
Find more on my Travel More and Spend Less page
Other Articles