Check out this guide to Grasmere Lake District – it's a beautiful little spot.
Check out things to do and get planning your visit today.
1. Grasmere Lake District – What To See and Do
Grasmere Lake District is somewhere I am lucky enough to have visited several times, with groups and on a training course. It's very pretty and lovely to spend a day or so exploring. If you prefer somewhere a little quieter than perhaps Bowness on Windemere then Grasmere could be a good option for you.
2. Grasmere Lake District – The Village
A lovely little village with plenty of history and some nice shops and cafes too.
Ideal for nature lovers and particularly those interested in William Wordsworth.
When staying with groups we have been lucky enough to stay at the Swan at Grasmere. The village centre is roughly a 10 minute walk away from the hotel.
Below is an overview of what is where in the village of Grasmere.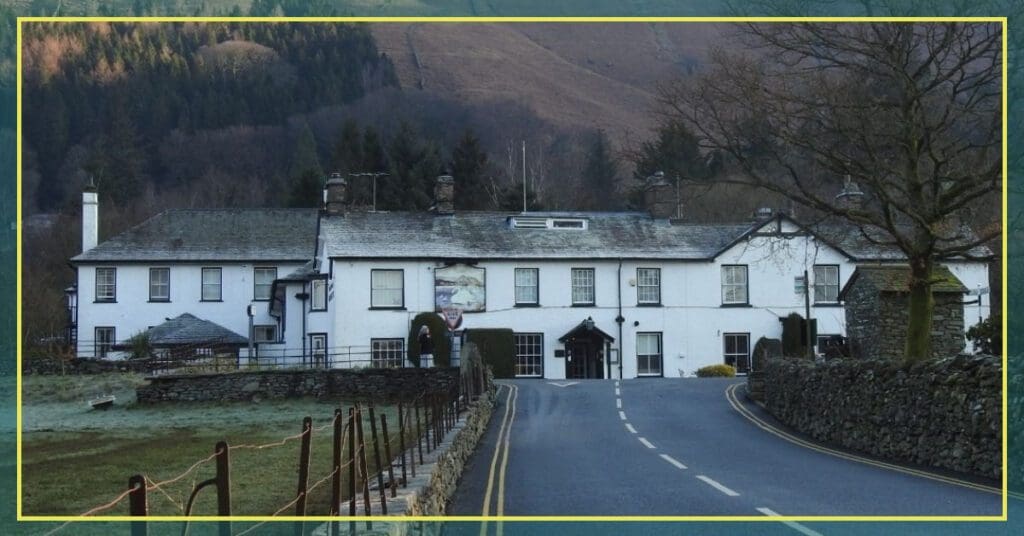 Grasmere Lake District- Want to stay in Grasmere?
Use this map view to find the best prices on the internet quickly and easily.
Wordsworth Hotel & Spa – Right in the Centre of the Village
Tweedies Bar and Lodge
3. Grasmere Lake District – Walking into the Village from the Swan Hotel
There is a path that leads beside a field down to the village of Grasmere from the Swan Hotel.
To find the path take a left immediately out of the front door of the hotel, walk down, across a small river and then cross the road at the crossing point (where there is bollard in the middle of the road). Continue in the same direction, now on the opposite side of the road you will come to a gate and a path with a stone wall on the right hand side and a field on the left. Walk down this path.
Herdwick sheep and lambs have been in this field and it is good to see a bit more of a close up view of them. They are easy to recognise as the lambs are black and they get greyer and lighter as they get older.
Continue down the path you bear right at the end and walk through a drive area. This is the access for the holiday cottages on your right but there is a public right of way to walk through here.
Take a little diversion to your left to the riverbank. There you will find a penfold where livestock used to be kept while drinking at the river. There is a bench with a lovely view and it is nice spot to get close to the river as well.
Exit the parking area and turn left over a lovely stone bridge and at night this a great spot to see bats hunting. They hunt across the river and under the lights of the adjacent hotel.
After the hotel the pavement runs out, so cross over and continue walking down past the playing fields on the left and the fields on the right.
Deer have been spotted in the fields on the right hand side so keep your eyes peeled.
One of the first buildings on the left is the Village Hall. It always seems to have something on, whether a theatrical production or an antiques fair so it is great to see the hall being used so much.
Then comes the Pharmacy and next The Co-operative store.
The Co-operative is quite small but it has a cute little community board inside with local news and events.
It has a cashpoint (ATM) inside and is a smaller sized convenience store with food and drink, sandwiches, alcohol etc. They don't sell newspapers.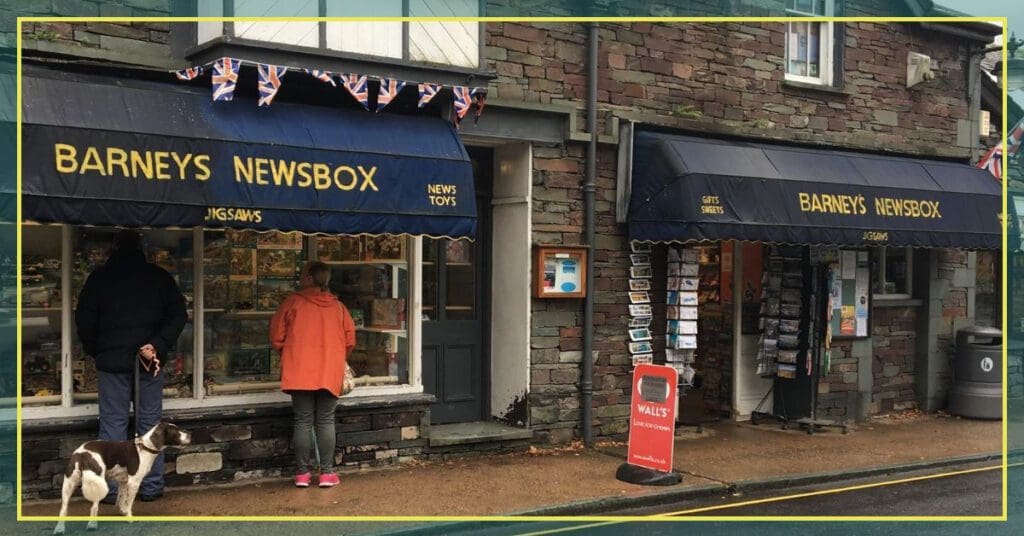 Barneys Newsbox is a fab shop.
If you love jigsaw puzzles you should have a look as it's got a huge selection. They have puzzles in all shapes and sizes and lots of places such as every state in the USA for example. They also do a nice range of cards and of course newspapers.
Great curated choices plus a great selection of books about the area
Who doesn't love independent bookshops?
This great shop always has some interesting curated books on display as well as lots of books about the Lake District area too.
Take a left at the bookshop to find another tempting shop!
6. Grasmere Lake District – Lucia's Cafe and Bakehouse
Tempting treats right in the window!
There are such tempting treats in the window, it's almost impossible to walk past. Lucia's does soya milk coffees which are great for non dairy drinkers.
If you have ever wondered what a Herdwick sheep tastes like they often have Hoggett pasties available so you can try them!
If you continue walking in the same direction, with the village green on your left.
7. Grasmere Lake District – Green's Cafe and Bistro
Great vegan choices and a lovely terrace ideal for people watching
Green's has a lovely terrace which is great for a spot of people watching.
They also have a great vegan selection too, including vegan ice cream.
If you turn left out of Greens and continue walking in the same direction you will come to the famous Gingerbread shop which is in the corner of the courtyard.
8. Grasmere Lake District – Grasmere Gingerbread
Beloved by William Wordsworth and his sister Dorothy and made to a secret recipe
The smell coming from this little building is always amazing. The gingerbread is made to a secret recipe and it was the Gingerbread that William Wordsworth and his sister Dorothy craved when they were away.
You can also buy it and have it shipped around the world so it has been sent to lots of family and friends as an unusual treat only available in Grasmere.
9. Grasmere Lake District – St Oswalds Church
Great to stand under a tree that William Wordsworth planted
This lovely little church is where William Wordsworth and his family members, including his sister Dorothy are buried. It is one of the most visited graves, infact the most visited literary grave in Britain. The graveyard is surrounded by yew trees which were planted by William Wordsworth, a great connection back to this influential poet.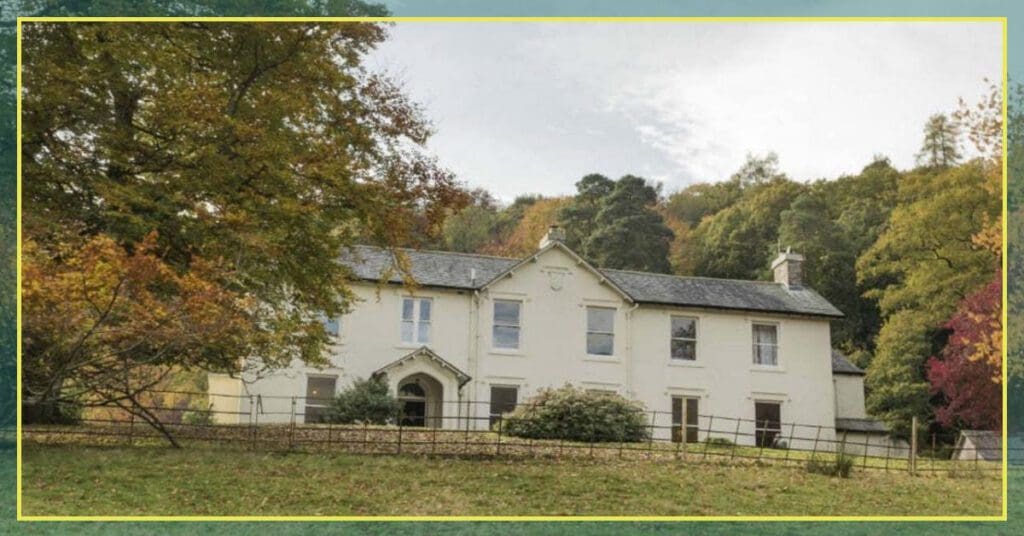 10. Grasmere Lake District – Allan Bank
Quirky, fun, and unlike any other National Trust property
Allanbank because is so unlike any other National Trust property. General National Trust properties are lovely and packed with interesting arts and pieces that you view sedately from behind a rope with well to do guides who gently explain things if you ask them
Allanbank is the complete opposite of that. It is a bare house, having been severely damaged by a fire. There is no posh furniture, expensive paintings or red ropes to stand behind. It is an interactive experience.
The National Trust did a survey to find out what members wanted to do with the property and the overwhelming feedback was to leave it as it was after the fire and keep the 'this house is your house' feel that the place had. That's exactly what they have done.
You can sit by the fire and enjoy reading a book you have taken from the bookshelf. You can sit by the big window and enjoy watching the Red Squirrels heading for the feeders (Allanbank is one of the very few places you can see this lovely creatures in England).
There is a craft room, where you can create your own artwork. It was great to enjoy lots laughing and admiring of everyone's efforts. It wasn't an organised event, you just head in, pick up whatever art material you want and make something.
In the stable outside there was quite an interesting film about the place.
You can make yourself a cup of tea and sit in the kitchen area with other visitors. It really did feel like it was our house.
For visitors expecting a more traditional National Trust experience it may well feel disconcerting but if you want to have an experience rather than a passive viewing Allanbank is definitely worth a visit.
Adult entry is £8.70.
You can find Allanbank by leaving the main square in Grasmere where the village green is. Walk down from the bookshop on the same side of the road as the art gallery and cafe. At the junction there is a little road coming from the right, walk along there to find Allanbank. When the area opens up you will see two large houses, Allanbank is set back up on a little hill on the left hand side. It is no more than 10 minutes walk from the centre of the village.
I spent a very happy couple of hours there and could have spent longer if I hadn't have needed to get back for lunch.
11. Grasmere Lake District – Wordsworth Museum
A long term residence of Wordsworth, Dove Cottage, is open to visitors and there is also a visitor centre close to the cottage.
When I was last in Grasmere Lake District the cottage was being refurbished for the 200th anniversary celebrations of Wordsworth, but then Covid hit. As such I have only seen Dove Cottage in it's stripped back state as it was being refurbished rather than the finished article.
William Wordsworth had a big impact on the Lake District as well as poetry and he can also be thought of as an early environmentalist.
Check out more information about Dove Cottage.
12. Want To Stay in Grasmere Lake District?
Here are the current top deals in Grasmere, plus a link to Booking.com if that's your go to!
13. Ambleside, Lake District
Jintana Thai Restaurant, Ambelside
The restaurant is full of Thai features including elephants and a Tuk Tuk at the back of restaurant. The welcome was warm and we were left with the difficult job of choosing something from the menu.
I chose a Tofu curry and we shared a rice dish which as you can see above was beautifully presented, and tasted delicious too. I also enjoyed a non alcoholic cocktail which was lovely as well.
For two of us, just having a main dish, shared rice and a drink each, the meal was ?40 so it's not a cheap eat but my goodness the quality and taste was great so I would definitely go back again when I am next in the area.
Zefferellis cinema is just across the street so you could combine the two for a nice evening out. It is an independent cinema, which I love visiting so ideal for something a bit different.
14. Grasmere Lake District FAQs
Grasmere Lake District Weather?
The Lake District gets more rain than many other parts of the UK. As always with weather the key thing is to be prepared so always take an extra layer and waterproofs with you if you can. Accuweather has a good forecast – the Lake District weather is – here.
What is the Lake District National Park?
The Lake District National Park was the first National Park in the UK. The story of how it was founded is really fascinating with battles between the working class, wealthy landowners and political campaigns. There was also much reference to Yellowstone National Park during the debate and amazingly there was 80 years between the formation of the two parks with Yellowstone being formed in 1872 and the Lake District National Park in 1951. You can find out about the park on the official website – here.
Can you walk around Lake Grasmere?
Yes you can. It is rated as a fairly easy, flat 3.5 mile walk. Find a detailed description of the walk here.
Does Grasmere get busy?
Yes, it does get busy. Large coaches are not allowed into the village itself and have to park at the coach park to the South of the village. This helps with numbers but does sometimes mean there are large numbers of people walking on the footpath from the South end of the village.
Is Grasmere a village or a town?
It is definitely a village, and a super cute one at that.
15. Lake District National Park Map
You can find links to maps of the park here, alongwith information about parking and toilets.
16. Lake District Hotels
The fact that the Lake District is a National Park means there are restrictions on developments and building. This means that there is often much more demand for hotels than there is supply. Prices can be quite expensive in the peak summer season.
Kendal is a pretty market town just outside the Lake District so it might be worth checking out hotels here for some cheaper options.
Check out a selection of Kendal hotels below for a quick price check.
17. Self Catering or Holiday Let in the Lake District?
Check out what's available below
Further Reading
If you have found my Grasmere Lake District article useful you might also like;
My review of the Lonsdale Hotel, Bowness (now a fab self catering property_
Find more reviews, guides and planning information on my Travel Inspiration page
Other Articles