Do you want to know about Gatwick Airport facilities?
Are you staying over?
Well, it's a lovely airport with great facilities so check out my guide to help you plan your trip.
What Facilities Are At Gatwick Airport?
Gatwick Airport Facilities
1 – Onsite Hotels
Nothing makes catching a flight that requires an overnight stay easier than staying at the airport itself. I always prefer to stay as close to the airport as possible when a flight needs an overnight stay. Gatwick Airport has 3 hotels on site;
The Sofitel is connected to the North Terminal by a covered corridor and it's my favourite on site hotel. (Check out my review of the Sofitel London Gatwick)
The Bloc Hotel is next to the departures area in the South Terminal – I've stayed for a family trip and for day use on a long layover. I really like the rooms without windows for layovers. (Check out my review of Cheap Hotels Near Gatwick which includes the Bloc)
Yotelair is right beneath your feet in the South Terminal as it underground – there is a lift beside the arrivals area.
Gatwick Airport Facilities
2 – On Campus Hotels
There are also hotels on the Gatwick Airport site within a very short walking distance of the airport including the Premier Inn and the Courtyard by Marriott.
The Courtyard by Marriott is around a 10 minute walk from the terminal building and it's quite a quiet hotel with some greenery around it, which is a nice contrast to the airport.
(Check out my review of Cheap Hotels near Gatwick Airport)
Find deals at onsite and on campus Gatwick hotels below;
Gatwick Airport Facilities
3 – Easy Shuttle Between Terminals
It is very easy to get between the North and South Terminal on the shuttle. These run frequently at all times and the transfer takes about 3-4 minutes. I have never had to wait more than 5 minutes for a shuttle meaning transfer times are a doddle between the two terminals.
Gatwick Airport Facilities
4 – Marks and Spencer's Food Shop On Site
I don't know about you but if I have been away eating group meals for a week or two it is nice to have a change and enjoy an 'in room buffet' as I like to call it. It's very handy when arriving and staying nearby to pop into the Marks and Spencers and get a nice salad etc to enjoy something to eat in your room.
They have a good selection of food and drink including sandwiches, snacks, drinks, pastries, breakfast items as well as a coffee bar.
Gatwick Airport Facilities
5 – Family Friendly Security (with lanyards) and Fast Track Security
Going through security is an essential part of flying of course but it is often not that enjoyable with instructions being barked at you by security personnel as people watch you undress or unload all your personal belongings into the trays. If you have children or are travelling with children with additional needs the family friendly security lane is a much quieter and calmer option.
My nephew has autism and having been given a lanyard at the check in desk he was treated in a friendly and calm way by the security personnel throughout his time at the airport. The lanyard is a discreet way to tell staff that the young person has additional needs, whether those staff are in the airport or on the plane.
Gatwick also has Fast Track Security which you can buy as an extra when booking flights or when booking parking/lounge access. If you have Easyjetplus Fast Track Security at Gatwick is included and I have to say I enjoy the quieter and calmer experience as a result – anything to help reduce my pre flight nerves.
Gatwick Airport Facilities
6 – Wagamama
Yes, there are plenty of options for places to eat at Gatwick Airport including a Wetherspoons, some interesting little bars, sushi and much more. However, for a plant based eater like me Wagamama is heaven as they have a great vegan menu. I love the Yasai Katsu curry which is pieces of vegetable cooked in breadcrumbs with a katsu curry sauce, sticky rice and a delicious salad dressing. I also find the staff very helpful here. If you need a charging point for a phone just ask and they will sit your near a plug socket. Green tea is also free 🙂
If you want to check out the menu at Wagamama you can find it here.
Gatwick Airport Facilities
7 – Dayrooms for Layovers
Having to spend hours at an airport (unless it is somewhere like Singapore or Schiphol) is not my idea of fun. If the layover is 3-4 hours then I will use the lounge but if it is longer then I prefer to have a dayroom so I can perhaps grab some sleep, have a shower etc before I travel onwards.
Yotelair cabins are bookable in 4 hourly slots so and they are in the South Terminal. I have used the superior cabins for layovers and they were great with super comfy beds. The Bloc Hotel has a great location in the South Terminal too and for layovers I prefer the rooms without windows if I am planning to sleep.
The Sofitel also does dayuse rooms and while these rooms are lovely they can be quite expensive and if they face directly onto the atrium they can experience a bit of noise.
For dayrooms I use Dayuse. The rates good and have stayed at the Bloc and the Sofitel during the day on long layovers.
Gatwick Airport Facilities
8 – The Number 1 Lounge
This comes with a bit of a caveat. I like this lounge, which I use with my Priority Pass card but I generally prefer it when it is slightly more out of hours. At peak times this lounge can be very busy and as a result quite noisy. I do like the fact that the library area is for adults only i.e. no kids, which can help with the noise levels. There are toilets near the bar area, good views over the runways and airport area.
There are also some nice working desks, plenty of sockets for charging devices and generally a good selection of hot and cold drinks plus a bar service. There is a small movie area, albeit I have never watched one there. As expected there is free WIFI and a big screen which made for a very pleasant afternoon watching an England qualifying football match with a random group of travellers.
(Check out my Airport Lounge Pass guide and find the cheapest way for you to access an airport lounge)
Gatwick Airport Facilities
9 – Aspire Lounge and My Lounge
Often overlooked is the Aspire Lounge which isn't quite a lush as the Number 1 Lounge but it is often much quieter. This is located down one level from the Number 1 Lounge in the South Terminal. The food and drink selection isn't as big but the quieter atmosphere can more than make up for that when it is busy. You can use your Priority Pass card to access this lounge. There is also a My Lounge which is more like a cafe type layout and in the North Terminal you can use your Priority Pass card, or just pay for entry in the South Terminal.
(Check out my airport lounge membership comparison and find the best membership option for you)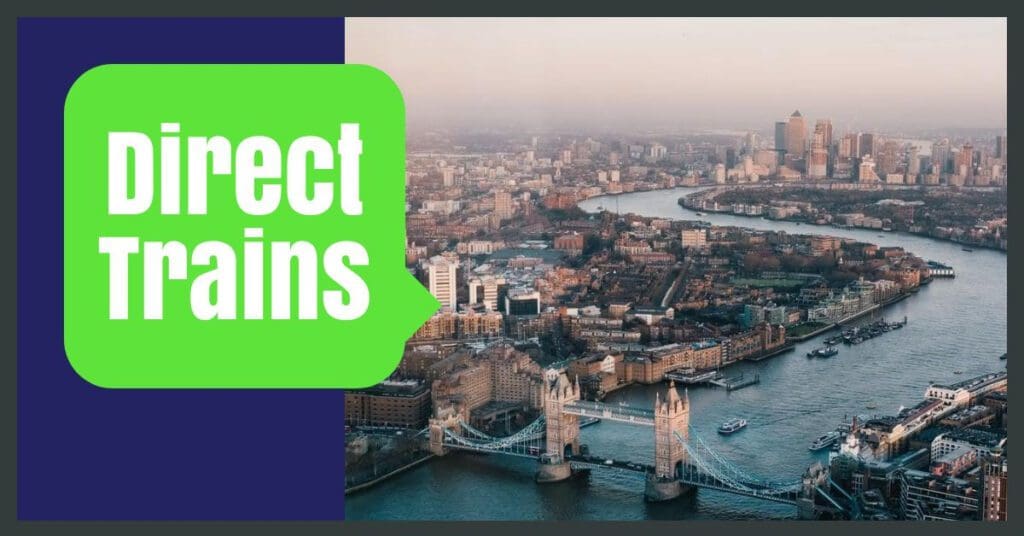 Gatwick Airport Facilities
10 – Easy Access to London with Oyster Card Payment Option
The railway station is in the main building of the Gatwick South Terminal so it is very easy. Trains run regularly through the day into London. It can be quite busy with lots of visitors buying tickets. If you have an Oyster Card for ticketless travel in London you don't have to buy tickets in advance or queue, just tap your Oyster card at the entry readers and head straight through.
This makes train connections easy. If you don't have an Oyster Card but you do have contactless payment on your credit or debit card you can use this top tap through, getting the discounted rate for travel as well. One train I avoid is the Gatwick Express – I just think it is overpricked in relation to non express versions!
Conclusion
Gatwick is an easy airport to use with a good selection of accommodation options for all budgets. The facilities are good and getting between the terminals is easy.
Security is generally quick and quite painless.
Getting to London is super simple and the Oyster card or contactless means no faffing buying tickets.
Gatwick Airport FAQs
Can You Walk from Travelodge to Gatwick Airport?
Some travellers have advised you can walk the route in around 15-20 minutes by taking a foobridge over the River Mole from the rear car park at the Travelodge Central Gatwick Airport. However, the route is not suitable for those with large cases. There is however a hotel Hoppa bus which you can take for a small charge. Walking on the main road, the A23, is not recommended.
How Far Is Travelodge from Gatwick Airport?
It is 1.6 miles from the Travelodge Central to the South Terminal at Gatwick Airport
Want to Stay at or Near Gatwick Airport?
Check out hotel prices in the area with this map view.
Further Reading
If you have found this 10 Reasons to Love Gatwick Airport article useful then you might like my article on Cheap Hotels Near Gatwick useful.
If you are interested in airport lounge access then check out my guide to how to find the cheapest airport lounge pass.
If you want more travel ideas check out my Travel Inspiration page
Other Articles